Chinese Zodiac
(2013)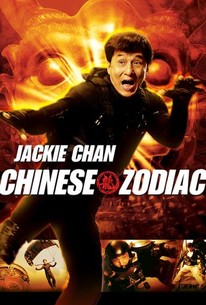 Movie Info
A globe-trotting adventurer uses high-tech gadgets to seek out priceless relics in this action-packed thrill ride starring the one and only Jackie Chan. Centuries ago, a collection of zodiac busts were the pride of China. Flash forward to today, and the bronze heads of those busts are missing. When powerful entrepreneur Lawrence (Oliver PLatt) offers a sizable reward for their recovery, the intrepid Asian Fox (Chan) races to find them, and ensure that China's history is preserved. Meanwhile, Asian Fox will rely on a stunning array of cutting-edge devises to survive his treacherous mission, and ensure the relics don't fall into the wrong hands. ~ Jason Buchanan, Rovi
News & Interviews for Chinese Zodiac
Critic Reviews for Chinese Zodiac
Audience Reviews for Chinese Zodiac
½
You know it's a sad day when, as is normal in Jackie Chan films, the gag reel rolls over the credits of various mistimed stunts, the first of these is Jackie falling to the floor while hanging inside a picture frame that is 4 feet above the floor.  I'm not gonna claim to be a Jackie Chan historian, but I've seen enough of his films to notice that this guy did some absolutely insane shit that has put his body and life at risk.  This is a guy that fell of a 2-3 story building onto his freaking neck.  I'm not suggesting that Jackie, at his age, ever do any of this shit ever again, I'm sure we'd like to have him around for years to come.  It's just noticeable that the years of crazy stunts have taken their toll on him.  It's even more noticeable when, during the credits as well, they start to show a compilation of his craziest stunts.  It was a fucking awesome compilation though and I'm grateful for the entertainment this guy has provided us with.  With that said, I thought the compilation of Jackie's stunts was better than anything in this movie.  That would be a bad sign, but it's really not.  This movie isn't anything special or mind blowing, I can't even say that it's good, but it's got a silly charm to it that made it fun to watch this in spite of its faults.  The story is convoluted and nonsensical. The part of of returning repatriated relics to their respective homelands is something we've already seen, in the form of people coming to China to steal relics, in Project A 2, if I'm not mistaken. So the whole theme of national pride is a repeated one from one of Jackie's other films. But the film has something about it that's a little charming. Maybe it's the old-school adventure feel and the interplay between the cast, even if the film's acting isn't great, it looked like they had fun making this and that, will always, work to its benefit. As mentioned the story is pretty lame, there's some sentimentality and heavy-handed jingoism. The film has few fight scenes, but the ones that are there show Jackie's knack for incorporating props into his fight sequences. Jackie will always have one thing over every martial arts star, even the guys from The Raid, and that is how to creatively incorporate props into fights in away that's really entertaining. While Jackie Chan had speed like a motherfucker in his younger days, obviously, he's a little slower and not as smooth as he once was, but goddamnit, he's still good at what he does. I wish the films would've incorporated more of these fight scenes, but I get that it wasn't trying to be just a martial arts film. This is definitely a little rough going at the start. It just looked and felt like it wasn't gonna achieve much. Considering the rating I gave it, it still didn't really do much, but it's a better film than it seemed at first. If you're a hardcore Jackie Chan fan, then you'll enjoy this, even if you're disappointed at its lack of fight scenes and preposterous story. I think this tries to hit some broad strokes in order to get as much people to watch it, it doesn't always work, but it's a perfectly average film. A good Netflix watch.
Jesse Ortega
Super Reviewer
Chinese Zodiac follows JC search for the twelve bronze heads of the animals from the Chinese Zodiac. Aside from the protagonist name being JC (probably Jackie Chan does this kind of activity in his spare time) the story will not register a pulse. Literally the first action scene written into the film is just for the sake of it. What occurred in that action scene involving JC as a human rollerblade is never mentioned again. Speaking of which, it does attempt to developed it cast of characters albeit clumsily. At random characters will reveal bits of themselve when talking to each other during an operation which gets interrupted by contrivances or convenience. Development feels force as every plot device it uses to move forward makes it difficult to care when nothing is earned and resolved by luck. The dialogue ranges from steal this artifact, I hate your ancestors for stealing from us, we're procrastinating doing anything evil to you for a comedic routine variety. All the while JC reiterates at several points during the movie the "great injustice and disrespect" the Western countries have shown to the Chinese in the past. This message is heavy-handed because of how often it's brought up. One could look past the only Western representation is a stereotypical dumb blonde, but to solely act as if only one nation wronged China people does not help with it message of great injustice. I don't know much about China history, but, um, remember Unit 731 screenwriters? I do and in case you do that's because no one beats it over your head with how wrong it was. For two acts the film goes for a lighthearted and comedic tone until the final arc which gears the tone to be more serious. Characters we follow that had no problem stealing rare artifacts for money developed a contrive code of honor towards the end. Yeah, because the same guy who has no problem stealing artifacts from the rich should really send the message that stealing is wrong. Chinese Zodiac takes a couple narrative inspiration from "Mission Impossible" globe trotting with some implausible gadgets (like the replica printer), the "Ocean's Trilogy" team dynamics, and inability to balance action and comedy like "Once A Thief". Failing to make the most of it settings to make it feel like a grand scale adventure, a bland team whose planning process before an operation is never seen, and succeeding in being unable to balance a tone. Writing is all over the place attempting to be many things failing to be a single good thing. As for which version you see really doesn't matter. In the first cut I've seen that was fourteen minute shorter had rush pacing putting emphasizes on comedy with very little breathing to naturally develop the story. All the problems in the Chinese cut of the film are made more apparent, though it ends quicker. Jackie Chan is the center of attention rendering the whole team dynamic a bit redundant. Chan carries the movie on his weight being the enjoyable goofball for two acts and going for serious in the final act. This role doesn't challenge Chan to balance the comedy and drama like he master in previous films, but does a good job none the less. Supporting cast is decent, though mostly forgettable as comic reliefs to prolong one particular comedic action piece on an ancient ship. Action wise two of the film biggest set pieces are underwhelming at best. On paper Chan as a human rollerblade sounds exciting, but not so much in execution as in the way it was shot makes as if it was performed slowly. Another is a long set piece on ancient ship that is in favor to show comedic antics than actual fighting. Lasting allot longer than it needed too with added slapstick. The only worthwhile action sequences appear in the final forty minutes of the film. Allowing Chan use his environment against his opponent and fight against fighters that actually hit him. These fight scenes are reminiscent of Chan golden days since they stripped Chan of all his contraptions and unnecessary embellishment. Improvising with what's ever around him with fast choreography combined with unique ways to take down his opponents. If these were the film final action sequences it would have ended on a high note in the action department. Sadly, there's one in the uneventful climax involving four skydivers, and a volcano. On paper doesn't that sound awesome, but in execution poor CG, slowly performed action, and no decent setup dooms it. Chinese Zodiac comes across as a knock off of a good Jackie Chan film that just so happen to have the actual star in it. It's story is uninteresting simply tossing an action sequence for the sake of it and sprinkling muddle characterization with little breathing room until the next plot devices rears itself in. On the action side the first half of the film is unimpressive or get interrupted by an overlong slapstick comedy routine. It has three good fight scenes two of which that serves to remind viewers of Chan's skill as a fighter, but the climax leaves plenty to be desired. On a technical level there's nothing much wrong with the film with the exception of few instances of bad CG. When there's only three scene in a two hours movie that highlight it star true talent it's stop being merely a bad movie and more a disappointment for fans.
Caesar Mendez
Super Reviewer
½
This Chinese-Hong Kong action film is produced, written, directed by, and starring Jackie Chan. CZ12 (Chinese: 十二生肖), also known as Chinese Zodiac, is a pseudo-reboot of a film franchise that began with Armour of God (1987) and its sequel, Armour of God II: Operation Condor. I watched it yesterday in a full cinema and I am glad that with this film, Chan earned two Guinness World Records: "Most Stunts Performed by a Living Actor" and "Most Credits in One Movie". I can say WOW to him... Jackie Chan is really a legend of the industry! I have to say that the weakest point of this movie is the story: begins by a man telling the story of the Old Summer Palace and how it was looted in the 1700s by the British in the Second opium war. Among the treasures are bronze heads of the 12 Chinese Zodiac animals... In the present day, the bronze heads are auctioned for over a million euros each and the main company supplying the bronze heads and other stolen relics (MP Corporation) hires JC (Jackie Chan) to find the 12 bronze heads, with a promise of a huge reward if he can obtain the full set. On the other hand, this story was developed enough to support the action which was full throttle in 3D for most of the movie! Latest technology gadgets used were heaven for guys watching it (as well as the gorgeous actresses) and they were used in some of the most imaginative actions scenes I witnessed in my life. Chan wrote this script for seven years, and the film took a year and half to make. He said it was an important movie for him because it will be his last major action feature, although he insisted it is not the end of his action career. I enjoyed it... if you like JC don't miss it!
Chinese Zodiac Quotes
There are no approved quotes yet for this movie.