Chisum
(1970)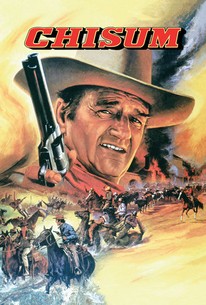 Movie Info
This classic western features (John Wayne) as John Chisum, the tough cattle baron who defends his Lincoln Country ranch from the gang of Lawrence Murphy (Forrest Tucker). When Murphy goes on a land-grabbing rampage, Chisum valiantly defends his territory. A bloody battle for land ensues and Chisum recruits ranch foreman James Pepper (Ben Johnson) to fend off the evil land baron. When Murphy's men kill a trusted friend, Billy The Kid (Geoffrey Duel) and friends go on a shooting spree and kill Murphy's friend, the local sheriff. Soon Pat Garrett (Glenn Corbett) is after the Kid, and Lincoln County is inundated by hails of hot lead. Wayne gives his typical performance as a rugged gunman forced to retaliate when his individual freedom and livelihood are threatened.
Critic Reviews for Chisum
Audience Reviews for Chisum
½
The best of the John Wayne westerns directed by Andrew V. McLagden, this sprawling epic centers around the revenge sought by Billy the Kid after his mentor is murder by the corrupt, land-grabbing bad guys. These scenes looked familiar since I last watched 1988's Young Guns.
Dean McKenna
Super Reviewer
½
A pretty bog standard outing for the duke. It ticks all the relevant horse opera boxes, but lacks the inspiration of his collaborations with John Ford.
Chisum Quotes
There are no approved quotes yet for this movie.