Chitty Chitty Bang Bang
(1968)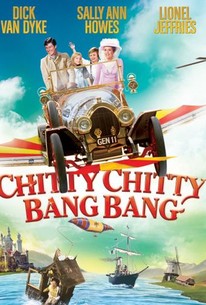 Chitty Chitty Bang Bang Videos
Chitty Chitty Bang Bang Photos
Movie Info
This $10 million production is taken from the only children's novel done by master spy author Ian Fleming. Caractacus Potts (Dick Van Dyke) is an eccentric inventor, widower and family man who invents a magical car that can float and fly in addition to the usual road travel. The evil Baron Bombast (Gert Frobe) tries to steal the car and the inventor, but he grabs Potts' eccentric father (Lionel Jeffries) by mistake. Soon the family and candy heir Totally Scrumptious (Sally Ann Howes) are off to rescue grandpa, who still believes he is in the British Army fighting in India. They fly to a fantasy land where all children are jailed, and the adults must rescue the children to insure a safe family reunion. British comedy legend Benny Hill plays the role of the Toymaker. Eleven songs are presented by Robert and Richard Sherman, who provided the memorable music for another Van Dyke film, Mary Poppins.
Critic Reviews for Chitty Chitty Bang Bang
Audience Reviews for Chitty Chitty Bang Bang
½
FROM THE VAULTS OF CLASSIC CHILDREN'S MOVIES: Comes the 1968 comedy-adventure musical "Chitty Chitty Bang Bang". Dick Van Dyke(who was Oscar nominated for Best Actor for Walt Disney's Mary Poppins)re-unites with musical composers Richard M. Sherman and Robert B. Sherman for this huge big budget spectacle that was produced by Harry Saltzman and Albert R. Broccoli(of the James Bond 007 movies),and based on a series of children's books by Ian Fleming(who was also the author of the James Bond novels),while literary giant Roald Dahl wrote the screenplay. Need more convincing? The film combines annoyingly catchy tunes(including its theme song,along with classic standards like "Truly Scrumptious","Too Sweets", and "Hushabye Mountain")tweety sweets,and a magical mysterious car that guides Professor Potts(Dick Van Dyke),his children and lady companion(Sally Ann Howes)on exciting fairy tale adventures set in Victorian England. Check out the star-studded cast ranging from Gert Forbe, Lionel Jeffries, Anna Quayle, Robert Helpmann(THE CHILD CATCHER!),and the hilarious British comedian Benny Hill. Not to mention this was a star studded spectacle presented in full Super Panavision 70MM and Technicolor with a running time of over 153 minutes.
Mister Caple
Super Reviewer
Despite the fact it is excruciatingly long and the songs were so bad that it drags the film down. Chitty Chitty Bang Bang is a mostly entertaining family film. I'd call it a minor classic in the fantasy genre.Also, I found that the children stars were more annoying than charming and that the magical feeling promised didn't come of as the film makers probably planned. But its colourful and its mostly fun. For mainstream audiences i'd say its entertaining but easily forgettable but for all you oldie fans you'll adore this.
Directors Cat
Super Reviewer
A childhood favourite and a Classic Musical with an adventurous journey. From the whacky inventions to the dreamlike journey, it's a film filled with familiar songs to all with some memorable dance scenes.
Lady D'arbanville
Super Reviewer
Chitty Chitty Bang Bang Quotes
| | |
| --- | --- |
| Grandpa Potts: | Coggins? He's so mean he wouldn't light your pipe if his house was on fire. |
| | |
| --- | --- |
| Child Catcher: | I don't trust a man who makes toys in a land where children are forbidden. |
| | |
| --- | --- |
| Second Spy: | What do we do now? |
| First Spy: | Start swimming! |
| First Spy: | I can't swim! |
| Second Spy: | Then start drowning! |