Chocolat
(2000)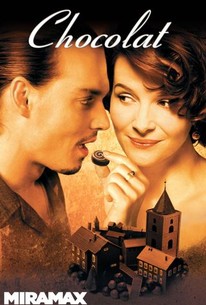 Movie Info
The most tempting of all sweets becomes the key weapon in a battle of sensual pleasure versus disciplined self-denial in this comedy. In 1959, a mysterious woman named Vianne (Juliette Binoche) moves with her young daughter into a small French village, where much of the community's activities are dominated by the local Catholic church. A few days after settling into town, Vianne opens up a confectionery shop across the street from the house of worship -- shortly after the beginning of Lent. While the townspeople are supposed to be abstaining from worldly pleasures, Vianne tempts them with unusual and delicious chocolate creations, using her expert touch to create just the right candy to break down each customer's resistance. With every passing day, more and more of Vianne's neighbors are succumbing to her sinfully delicious treats, but the Comte de Reynaud (Alfred Molina), the town's mayor, is not the least bit amused; he is eager to see Vianne run out of town before she leads the town into a deeper level of temptation. Vianne, however, is not to be swayed, and with the help of another new arrival in town, a handsome Irish Gypsy named Roux (Johnny Depp), she plans a "Grand Festival of Chocolate," to be held on Easter Sunday. Based on the novel by Joanne Harris, Chocolat features a distinguished supporting cast, including Judi Dench, Lena Olin, Carrie-Anne Moss, Peter Stormare, Hugh O'Conor, and Leslie Caron. ~ Mark Deming, Rovi
Critic Reviews for Chocolat
Audience Reviews for Chocolat
A fairy-tale that obviously doesn't qualify as my favorite. You don't need no Vianne to tell that. Kids, among others, might find this Chocolat tasty.
familiar stranger
Super Reviewer
An international all star cast help concoct this pleasing little truffle about walking the thin line between sin and pleasure, magic and reality.
Kevin M. Williams
Super Reviewer
I thought this was gonna be a dumb romance, but this movie was really good. The true great thing is the music, the score was perfect if you ask me. I think they could've made the town brighter and more colorful if you get what im saying. The acting was great, and deserved more recognition. The plot was well done and fun. This was a very good movie, and I wish you see it.
Jim Careter
Super Reviewer
Chocolat Quotes
There are no approved quotes yet for this movie.