Choose
(2011)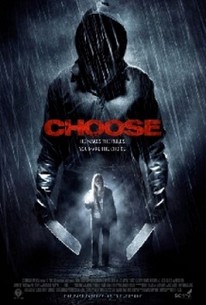 AUDIENCE SCORE
Critic Consensus: No consensus yet.
Movie Info
All is not well in sleepy suburbia....Woken in the middle of the night, teenager Sara finds her parents tied to their bed by a terrifying intruder. An intricate hour-glass filled with blood is placed before her and she is told that she has 60 seconds to choose which of her parents should die. If she doesn't make the choice then both of them will perish at the hands of the deranged killer. Who is the scarred man and why has he chosen Sara and her famliy as his victims? Marcus Graves' new slasher flick will have you squirming in your seat as the gruesome horror unfolds. -- (c) IFC
Critic Reviews for Choose
Audience Reviews for Choose
Like Cherry Falls and Se7en had a baby. A much, much worse baby.
½
Kevin Pollak must have been in need of a paycheck, I guess...
Cynthia S.
Super Reviewer
½
What. A. Film! The number of films that are nowadays just generic trash with very little thought put into them or with a lack of story. This film may not be the best at conveying story, but it is certainly a good film with a good story. Many people who know me well enough will be able to tell I have a strong passion for horror films because they tend to have a quality that other film genres don't have: fear. But now I am finding horrors are becoming, again, generic, predictable and unscary. Choose may not be scary, but certainly shocked and put me on edge a lot of the time, with four life-changing and impossible choices that were ridiculously harsh, whilst still cleverly crafted. What helps keep this film only on the border of torture porn is the fact that it tends to focus on the detective and investigation side. This means there is lots you don't fully know about the killer because you don't see him much. Saw was not good at avoiding interacting with the killer, spending majority of films 3-7 with the killer! Anyway, the film is allround clever, dark, harsh, violent and with a very creepy ending. I wish I had kept the same atmosphere the second time I watched it, but unfortunately me and my mate just kept mocking the film and another guy I know at the same time. Oh dear!
BG Movie Reviews 2011
Super Reviewer
Choose Quotes
There are no approved quotes yet for this movie.