Chopping Mall (Killbots)
(1986)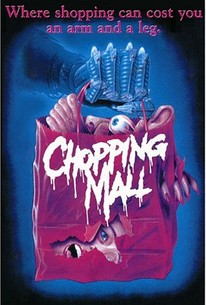 Chopping Mall (Killbots) Photos
Movie Info
This update of the TV movie Trapped is also known as Killbots and Robot. It concerns a group of teenagers trapped in a mall overnight. Instead of looting the stores, they must flee the machinations of a fleet of security robots gone haywire after an electrical storm.
Critic Reviews for Chopping Mall (Killbots)
Audience Reviews for Chopping Mall (Killbots)
Silly, cheesy fun that's sure to raise a smile among 80s b-movie horror fans. The plot has three new security robots go on a manhunt around a shopping mall after malfunctioning during a lightning storm. Very 80s stuff with the typical cliched cannon fodderof horny teens. It's actually more action that horror as the would-be heroes amass a sizeable arsenal to defeat the crazed Killbots... but that doesn't stop some of them meeting a bloody end. It's laughably bad but entertaining for sure.
After a 'Robocop'-esque infomercial satirizing the "neutralization" of a criminal, 'Chopping Mall' is a wacky B-movie that exudes a jovially fun attitude that removes the drive-in idiocy of the high-concept. Like the Universal classic 'Frankenstein' and, to a lesser extent, 'Friday the 13th: Jason Lives', lightning is the catalyst for the robot's blood-soaked carnage. The mall setting is perfect for eclectic locales and weapons to duel against the robots such as gasoline cans, a paint store and automatic machineguns in a hunting store. The film is concise, explosively self-effacing in it's humor (with a cameo from Joe Dante regular Dick Miller who scolds the robot for spilling his mop bucket) and truculently aware of it's absurdist plotline ("It's alright. I guess I'm not used to being stuck in a mall, chased by killer robots.").
Cory Taylor
Super Reviewer
½
A pretty silly 80's horror movie...or any decade, for that matter. It does have several things going for it though. The yummy Barbara Crampton for one, Dick Miller for another and a really horrible 80's cheese synthesizer score. Other than the head-exploding scene, there isn't really that much horror on display. It's a fun movie though. The terrible dialogue will keep you smiling. :)
Tim Salmons
Super Reviewer
Chopping Mall (Killbots) Quotes
There are no approved quotes yet for this movie.