Christiane F
(1981)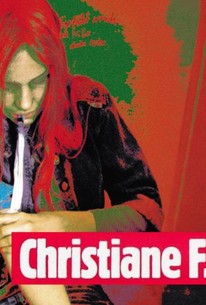 Movie Info
This film is based on a true story and focuses on the children from the Bahnhof Zoo train station in West Berlin who are drug addicts, drug dealers, and prostitutes. The film focuses on Christine F., who tries some drugs and gets hooked into a downward spiral that she cannot control.
News & Interviews for Christiane F
Critic Reviews for Christiane F
Audience Reviews for Christiane F
½
Despite having a dry structure and performances that can be a bit stiff sometimes, the film evokes an intense feeling of hopelessness (especially when we see the city of Berlin bathed in blue) and can be horrific in its graphic depiction of drug abuse by lost teenagers.
Carlos Magalhães
Super Reviewer
½
a grim and realistic film about a 14 yr old girl's descent into the underworld of drugs and prostitution in 70's berlin. based on a true story. i might rate this higher if not for the bad dubbing which made it very hard to judge the acting. soundtrack and concert cameo by david bowie, whose name the voice actors couldn't even pronounce correctly. damn netflix
Stella Dallas
Super Reviewer
All time favourite movie of mine. I first saw this back in the 90's on an almost knackered VHS with a bad overdub. Have since purchased the DVD with subtitles and in proper German language. I am not sure why I love this movie so much, it's hardly a cheerful story about a young teenage girl who slowly becomes hooked on heroin and then becomes a prostitute to support her habit. Maybe it's the 70's setting, the soundtrack including David Bowie and the excellent performances by the young cast. I recently got hold of the original novel this is based on, which I have been trying to find in English virtually since i first saw this movie. (Not easy to find at all as it is long out of print and only available in other languages). It astounds me that the vastly inferior "Go ask Alice" is still in print. This book seriously should be given to kids to read in school - it would scare the crap out of them and put them off for life. The movie I guess is a little more glamourous as the actress who plays Christiane is a pretty girl and, though it is still pretty gross, particularly by the end, I can understand how there were certain young girls who would try and copy her. (I read a little online about it and apparently this was the case). The book is definitely better than the movie (Can't believe i am saying that!), but they are both pretty damn good. This is the best movie about drug addiction I have ever seen.
Nicki Marie
Super Reviewer
Christiane F Quotes
There are no approved quotes yet for this movie.