Christine
(2016)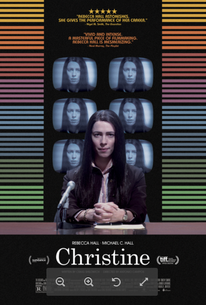 TOMATOMETER
AUDIENCE SCORE
Critic Consensus: Rising on the strength of Rebecca Hall's gripping performance, Christine offers an empathetic look at its subject's public career and painful private life.
Movie Info
Rebecca Hall stars in director Antonio Campos' third feature film, CHRISTINE, the story of a woman who finds herself caught in the crosshairs of a spiraling personal life and career crisis. Christine, always the smartest person in the room at her local Sarasota, Florida news station, feels like she is destined for bigger things and is relentless in her pursuit of an on-air position in a larger market. As an aspiring newswoman with an eye for nuance and an interest in social justice, she finds herself constantly butting heads with her boss (Tracy Letts ), who pushes for juicier stories that will drive up ratings. Plagued by self-doubt and a tumultuous home life, Christine's diminishing hope begins to rise when an on-air co-worker (Michael C. Hall) initiates a friendship which ultimately becomes yet another unrequited love. Disillusioned as her world continues to close in on her, Christine takes a dark and surprising turn. Based on true events, Campos' intimate and sensitive portrait of a woman on the brink is grounded by Hall's impeccable and transformative performance as Christine. Rounding out the supporting cast are superlative performances by Michael C. Hall ("Dexter"), Tracy Letts ("Homeland," Pulitzer Prize-winning playwright), Maria Dizzia ("Orange Is The New Black"), Timothy Simons ("Veep") and J. Smith-Cameron (MARGARET). Directed by Antonio Campos ("Simon Killer," "AfterSchool"). Written by Craig Shilowich. Produced by Shilowich & Melody C. Roscher ("The WonderClub"). Executive Produced by Sean Durkin & Josh Mond (Borderline Films) and Robert Halmi Jr. & Jim Reeve (Great Point Media).
News & Interviews for Christine
Critic Reviews for Christine
Audience Reviews for Christine
Standout performance by Rebecca Hall, but unfortunately the fill-in-the-blanks scenes (relationship with mother, love interest in co-worker, etc.) mostly came off like Lifetime. I also didn't like that Christine's decline was laid largely at the feet of her inability to have children--perhaps that was truly the largest factor in the real person's struggle, but it's a trope that's overused and feels rather reductive to see in film again and again. Also--and I don't know how you'd avoid this--the tension in the film can't be sustained if you know anything about it. The ending was shown in the trailer, and to get audiences interested at all I do understand why it would have to be. An imperfect yet ambitious film with just a little more in the positive column than the negative, which again is largely thanks to Hall.
Daniel Perry
Super Reviewer
Very effective true story about a socially awkward young woman who commits suicide on live air. I didn't know of her before watching this, but I really found this sympathetic and nicely done.
Nicki Marie
Super Reviewer
½
I'm someone who's very familiar with the story of Christine Chubbuck. It's not like I'm some sort of expert, but being someone who spends a lot of time on the internet searching for stories like hers, or stories that focus on the darker side of human nature. I'm interested in what drives people to commit the actions they commit, whether it is suicide or homicide. Chubbuck's story is an interesting one in that, and you can do your own research on her story, it appears that her case was the first televised suicide attempt. That might spoil elements of her story to some unfamiliar with her life, but I find that this is the type of movie that, if you decide to watch, you at least know some of the details surrounding her and what she did. Christine's story and her televised suicide is 'overshadowed', if that is the right term to use, due to Budd Dwyer's televised suicide in the late 80s, footage of which you can currently find online very easily. Christine gets lost in the shuffle simply because of the fact that the footage isn't available anywhere, though a video does exist and it doesn't look like it'll ever be made public. Anyway, the point is that, Chubbuck's story is a very interesting one and one that would have made for an intriguing movie, if nothing else. While there are obvious creative liberties taken, like Christine's relationship with her mother was portrayed very tumultuously here, when in reality they were very close. Christine was also close to her brothers, who aren't once mentioned in the film. I'm trying to think of what else they took liberties with, but nothing else is really popping out at me at the moment. I will say this right now, this is a damn good movie, but it's certainly not a movie that you watch if, say, you want to be cheered up or if you want to watching something that's a little light and fluffy. The film tells Christine's story through a series of events that cause her life to spiral out of control. Christine, at least the real one, suffered from depression from those who were closest to her. She lamented the fact that, at 29 years old, she still hadn't met someone to be with on a romantic level. Not to mention the fact that the news station she worked embraced a more sensationalist style in telling the news, focusing more on blood and guts. 'If it bleeds, it leads' as Michael Nelson (the station manager) says at one point in a meeting. This is what the movie deals with as well. As Christine deals with the pressures from work, to the pressures she puts on herself to do great work, to having to tell stories that weren't in tune with her morals just because the station wanted ratings and she wanted the Baltimore promotion. To an unrequited crush she had on the anchor, George, which led to a date that ended in an absolutely disastrous fashion. Let's just say that, at least in terms of the film's narrative, this date with George, and her subsequent meeting with the owner of the station, where he revealed that George and Andrea got the promotion over her, pushed her over the edge. The film, while exploring some very serious issues of truly crippling depression, Christine at one point or another, pushes everyone who's close to her away, never tries to make her look or feel like a saint. Again, I've never suffered through that severe of depression that Christine was feeling, that's not to say I haven't suffered from it, it's just not as bad, so I can't say that the way she was behaving was unacceptable. Sometimes people lash out and that may be, realistically speaking, the biggest cry for help there can possibly be. This is when you double down and you try to help, not when you say 'oh fuck off' and leave. Not saying there was a situation in the film like that, but it's just something that I've learned throughout the years. But, again, the film doesn't try to lionize Christine, even though she actually did good work, and that' was a smart move. It also allows Rebecca Hall, who gives an outstanding performance, to explore more angles of Christine's personality. Hall's performance is so fantastic that this would have still been a good movie even if this had been poorly written (which it's not). I don't feel comfortable saying that this is a great movie, it's almost there, but it's really fucking good and 85% of that is all on Rebecca Hall. Honestly, Hall gave one of the more criminally underrated performances of last year as she didn't get ANY love whatsoever from any of the major film awards. She didn't even get any love from the Independent Spirit people. But I digress, that's neither here nor there. Hall is must-see regardless of how many nominations she got for her performance. I will say that they still manage to make the climax feel shocking and messed up. I know where this was gonna end, I knew the story years before this film ever came out. And yet it was still very impressive (in like you can't believe what just happened) way. The film doesn't shy away from that and you could say that you could have accomplished the same thing without showing the suicide, but I felt it was essential. The film does a good job at making it seem that Christine's life has just completely spiraled out of control and, for her, there's really no going back. While Christine's death is the only thing that people might remember about her to this day, I still think that to tell her story, you have to be upfront about the way she died. I think, as I was watching the climactic scene, I felt as if I was watching the news broadcast on that fateful day. It's a powerful image, to be sure, and one that's sure to disturb some. With that said, I really don't have much else to add. The costume design is excellent and while the film is shot with modern technology, they do about as good a job at making it feel like it's the 70s. From the music, to how the news broadcast looks, to the clothes, it's top-notch. That's really all I have. This isn't a perfect film by any means, but it's an intriguing story about a dark moment in American television history. It features an excellent central performance. It's not an easy movie to watch, by any stretch of the imagination, and by that I mean the content and not because it's a rough movie to watch, but it's a very good movie regardless and one that I would easily recommend.
Jesse Ortega
Super Reviewer
Christine Quotes
There are no approved quotes yet for this movie.