Christmas Caper
(2007)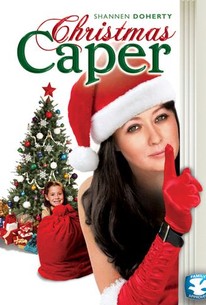 AUDIENCE SCORE
Critic Consensus: No consensus yet.
Movie Info
Her latest heist having gone horribly awry, a professional thief heads back to her quiet hometown in order to maintain a low profile, only to find herself recruited to watch after her young nephew and nice when her sister is stranded in a tropical storm and unable to make it home for Christmas. Cate Dove (Shannen Doherty) isn't exactly the kind of woman most folks would hire to watch after their kids. In fact, the only reason she's come returned to her hometown of Comfort, Connecticut is to avoid the authorities after botching an elaborate jewel heist and getting stabbed in the back by Clive (Conrad Coates), her once-faithful partner-in-crime. Upon receiving word that her sister is stuck on an island in a tropical storm and won't be able to catch a flight out for days, Cate reluctantly agrees to look after her nephew Parker and her niece Annie. But familial responsibilities quickly take a back seat to criminal scheming when Cate realizes that her sister's quaint little neighborhood is a virtual treasure trove just waiting to be mined by such a resourceful criminal as herself. But just as Cate begins to craft the perfect plan to take the locals for all they're worth something strange begins to happen. Could it be that the thief who once thrived on the chaos of the city is finally growing accustomed to small town life? As Cate reconnects with her friends and family while developing a playful relationship with handsome local sheriff Hank (Ty Olsson), she begins to wonder if it's finally time to give up her life of crime and as herself what really matters most in life.
Critic Reviews for Christmas Caper
Audience Reviews for Christmas Caper
½
This is a mediocre movie at best - even with Shannen Doherty in the lead role. I guess it being a Christmas movie, the ending where everyone lives happily ever after is OK. I thought the movie would have been better if they would have developed Shannen's role a bit more.
Christmas Caper Quotes
There are no approved quotes yet for this movie.