Christmas With the Kranks
(2004)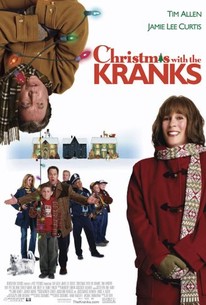 TOMATOMETER
AUDIENCE SCORE
Critic Consensus: A mirthless movie as fresh as last year's fruit cake, Christmas with the Kranks is a coarse, garish comedy that promotes conformity.
Christmas With the Kranks Photos
Movie Info
After faithfully and happily celebrating Christmas their entire lives, and with their daughter Blair in Peru to serve a stint in the Peace Corps, Luther and Nora Krank are facing the prospect of a very lonely holiday. One blustery Chicago night, Luther glances longingly at an alluring poster in a travel agency window and pictures himself and Nora basking in the glow of the sun on a Caribbean cruise. Though Nora is at first reluctant about going away for the holidays, she soon warms up to the idea. But when their neighbors find out, they are aghast, especially local busybody Vic Frohmeyer. To make matters worse, Luther refuses to put his illuminated Frosty the Snowman on his rooftop. Hemlock Street is famous for it and has won numerous contests sponsored by the local newspaper. The battle of wits between the Kranks and their neighbors quickly escalates, threatening the harmony of the community and, yes, the spirit of Christmas itself. Then, without warning, Luther and Nora get a call from Blair. She is coming home for Christmas after all and now the Kranks have less than twenty-four hours to get themselves and all the families on Hemlock Street back in the proper Christmas spirit.
Critic Reviews for Christmas With the Kranks
Audience Reviews for Christmas With the Kranks
½
A terrible christmas film and really boring.
Jim Careter
Super Reviewer
Christmas Movie Review Mania Episode #14: Christmas With the Kranks Tim Allen and Jamie Lee Curtis' "Christmas With the Kranks" is indeed cliched and predictable. I'm going to tell you the truth...I LIKE THIS MOVIE. You'll probably never hear me say that again to a movie that has 5% on the Tomatometer. Luther and Laura Krank don't know how to spend Christmas with their daughter, Blair, out of the country. Luther insists Laura that they take a vaction on a 10-day cruise across the Carribean. There's just one thing they have to do...SKIP CHRISTMAS. However when the neighbor's hear of the Krank's plan, they strongly urge them to get back in the Yuletide mood. But they better be quick because Blair is unexpectedly coming home for Christmas with her fiance! I like this movie because it is funny. Tim Allen can really pull off a Christmas movie. Take the "Santa Clause" movies for an example. Jamie Lee Curtis is also very wackey and hilarious. Dan Ackroyd is funny in the film as well. There are a few children in the film that are poor actors but who cares about them? I DON'T! "Christmas With the Kranks" is either a like-it or hate-it. But from my perspective, I like it. I always watch this one during Christmas. "But its not even Saturday night."
Bentley Lyles
Super Reviewer
This film had a strange effect on me. It was so excruciatingly bad that I turned into an absolute Grinch. Allen was so out of time with his comedic quips, that I had to replay his dialogue in my mind to be sure it was supposed to be a joke. The film has typical holiday mishaps. None of these amount to any classic moments. The first half misses out on doing some excellent parody, as the neighbours increase their creepiness. This would have been a great time to send-up some of the horror greats. Unfortunately, as much effort is put into this film, as the Kranks put into Christmas themselves. It's also hard to feel anything for characters used to giving $600 a year to charities. They are obviously financially well-off, so skipping Christmas doesn't seem like much of a sacrifice. The odd part comes at the very end. A moment of pure Christmas bliss, which is so touching my heart grew three times larger. It made me wonder if the film was supposed to be this bad, for the impact of these last scenes. The genuine concern and sorrow as Allen hears about his neighbour unable to walk across the street is rather moving. This film needed more moments such as this, rather than focusing on the mishaps of putting up decorations, and shopping around this time of year. Been there, done that.
Luke Baldock
Super Reviewer
Christmas With the Kranks Quotes