Christopher Robin
(2018)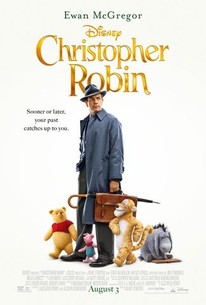 TOMATOMETER
AUDIENCE SCORE
Critic Consensus: Christopher Robin may not equal A.A. Milne's stories -- or their animated Disney adaptations -- but it should prove sweet enough for audiences seeking a little childhood magic.
Movie Info
In the heatwarming live action adventure "Disney's Christopher Robin," the young boy who loved embarking on adventures in the Hundred Acre Wood with a band of spirited and loveable stuffed animals, has grown up and lost his way. Now it is up to his childhood friends to venture into our world and help Christopher Robin remember the loving and playful boy who is still inside.
News & Interviews for Christopher Robin
Critic Reviews for Christopher Robin
Audience Reviews for Christopher Robin
Not only was that so fuckin' cute, I also absolutely support its Oscar nomination for visual effects. Owl and Rabbit were less stellar, but all of the stuffed animals, most especially Whinnie the Pooh, looked incredible.
A little slow moving but a treat for true Winnie the Pooh fans and it does a great job of mixing Milne's original work with Disney's adaptation .McGregor is great as Christopher Robin and the cvocal work of the characters makes the film. A sweet family film. 12-28-2018
Christopher Oakley
Super Reviewer
½
The stories of Winnie the Pooh are basically the pinnacle of nostalgic things for me, they were an important cornerstone of my childhood. Because of that, I really can't be impartial on this one. Yes, Christopher Robin is in a lot of ways a story we are familiar with. It's kind of like Hook, with a childhood character now grown up and rediscovering his childhood essence, but it's played much more simply in tone and that it seems to take place within the canon of the Disney version of these stories adds an extra pull to it. It's been a long time since I visited these characters, so as Christopher was reconnecting with their world so was I, and it was an odd almost meta experience. Seeing him remember things like winds-day and pooh sticks was emotional and almost eerie. Early on in the film when we see him as a child in his last day in the Hundred Acre Woods him and Pooh have a conversation that is almost word for word the same conversation they had at the end of The Many Adventures of Winnie the Pooh. There's connective moments like this that will make Pooh fans attach to this movie and it's themes in stronger ways than non-Pooh fans, but godamn if it didn't work for me. It gave me chills and emotions in extraordinary ways that made its themes even stronger for me. It isn't exactly an original concept, hang onto your childhood and don't work so hard. Not exactly anything we haven't seen before. But by the connective tissue of something from your childhood it gives the theme a power that is all the more effective. Not only that, the movie is just unbelievably funny. I realized watching it how much of my sense of humor was defined by Winnie the Pooh. Much of the humor in here comes from what I like to call Pooh philosophy. It's his unique way of looking at the world, a very simple way. Honestly most of the movie is just Christopher Robin and Pooh, and it works, because they play off each other so well with Pooh trying to understand Christopher's new adult world and Christopher struggling to explain it. It's hilarious, but also kind of deep, and that's exactly what Pooh humor always was. So much of the writing in here is stuff where I thought to myself "was that in a Pooh story?" and then said "no, but it very easily could have been," and that's a credit to the writers. The movie is beautiful, and moves at a leisurely pace. It's never really in a rush, but at the same time I was never bored by it. There's no sense of urgency, just a charming little story that it's going to spend 90 minutes telling you, and that's what Pooh is. My one complaint is that it does go a bit into that 90s cliché of the dad who works too much, and I always hated that because it never considered factors like providing for his family or other employees relying on him or just real world factors. In the climax of the movie they start to fall a bit too hard into that, but they pull back just enough into reality and hint at those realities that I was a bit more forgiving, but I am still getting sick of that trope. Bottom line, the movie is charming, beautiful, funny, and full of the feels. I can't say how well it will work for non-Pooh fans, but for someone who's childhood was defined by these stories, it worked perfectly.
Michael Malan
Super Reviewer
Christopher Robin Quotes
There are no approved quotes yet for this movie.