Christopher Strong
(1933)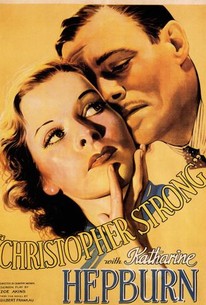 Christopher Strong Photos
Movie Info
A prize-winning aviator (Katharine Hepburn) falls for the title character (Colin Clive), a British politician who is happily married. Both fall into a tempestuous affair, but are able to resist their urges.
News & Interviews for Christopher Strong
Critic Reviews for Christopher Strong
Audience Reviews for Christopher Strong
½
The movie starts after a scavenger hunt has rounded up all the usual objects. So, the hostess proposes two new challenges: to either find somebody who has been married for five years and has always been faithful or to find somebody over the age of 21 who has never been in love. For the first category, Monica(Helen Chandler) takes off to find dear old dad, Sir Christopher Strong(Colin Clive), who is so boring he is doing taxes in the middle of the night. Harry(Ralph Forbes) almost literally crashes and burns in a borrowed motorcycle before meeting up with Lady Cynthia Darrington(Katharine Hepburn) who satisfies the second category. At the party, Christopher and Cynthia bond and she gives him a ride in her car before one in her airplane. Even for the time it was made, "Christopher Strong" is a stodgy movie that drags on much too long and that even Katharine Hepburn can do little to salvage.(You do have to admit, however, that she is one of the only people who could rock that costume.) In fact, the coolest part of the movie, the flying, is usually given short shrift in favor of the dull melodrama in a half-hearted attempt to explore the changing social mores of 1933.(Notice that the movie is not called "The Daring Darrington.") And I am simply left wondering what exactly Cynthia sees in such a drip as Christopher.
½
Very early Hepburn is an entertaining one if your a fan of hers. It is very mannered in both pacing and acting but as a relic of it's time not bad.
Christopher Strong Quotes
There are no approved quotes yet for this movie.