Chromeskull: Laid to Rest 2`
(2011)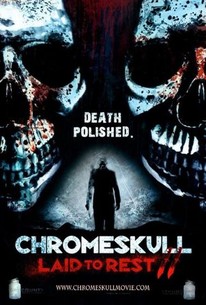 AUDIENCE SCORE
Critic Consensus: No consensus yet.
Chromeskull: Laid to Rest 2` Photos
Movie Info
"ChromeSkull" is the sequel to the 2009 horror hit "Laid to Rest." It brings back ChromeSkull, who barely escaped death in the first movie and is hell-bent on continuing where he left off... and forging a new path of terror and destruction.
Critic Reviews for Chromeskull: Laid to Rest 2`
All Critics (2) | Fresh (2) | Rotten (0) | DVD (4)
ChromeSkull: Laid to Rest 2 is an uncompromising, unflinching, and thoroughly insane little film which will have you gasping and cheering every kill until the very last frame. It's exactly what we watch slasher flicks for.
October 8, 2011 | Rating: 4.5/5
In the end it's not re-inventing the wheel, or changing the genre, but at least it's watchable.
Audience Reviews for Chromeskull: Laid to Rest 2`
½
I finally did it! It's been seven years and change since I first watched Laid to Rest, and I'm just now getting around to watching the sequel. The effects of ChromeSkull are on par with its predecessor, and let's be honest, that's the only real reason to come here. But the camera work is pretty lacklustre; it does lack a little of the first film's inherent charms (probably because of the sequel's larger scale), and it goes some directions story-wise that I felt might have been better left for a later instalment. Still, all in all ChromeSkull is a very manageable little film IF you've got the stomach for it.
Sequel to Laid to Rest picks up right where the first one left off. The Laid to Rest series is truly a refreshing take on the genre. These films will surely please fans of old school Slasher films. Chromeskull is a very good follow-up that offers up even more blood. I thought that considering the budget for both films, director Robert Hall was able to pull off something awesome with these films as it looks better than most low-budget horror films. The result is a fun, entertaining hour and a half of a good body count as Chromeskull, killer from the first film continues what he does best. In this second film, we get sort of an idea why Chromeskull does what he does, and who's behind him. Although not as great as the first, this is still a worthwhile sequel, enough to please fans of the first. With plenty of grotesque kills, Chromeskull:Laid to Rest 2 is an awesome film worth seeing. Both films in this franchise are wicked and you can see that director Robert Hall is a director who is able to craft a solid horror romp without being restrained by a modest budget. A flawed, but well put together sequel that delivers a high body count, decent performances and effective directing to keep the most diehard horror fan interested. What really makes this sequel stand out is the unrelenting and creative ways that Chromeskull kills his victims, and although it's not a perfect film, Chromeskull killing spree more than makes up for it. If you're tired of the same old, tiresome horror remake, well these films may satisfy your appetite for something refreshing in a genre that has gone stale with remakes.
Packed a lot more sense that the first one, gave the annoying protagonist, in the first, a medicine she deserves, and gives even more iconic kills. Laid to Rest 2 is one of those sequel that transcends the first movie, with more blood and more entertainment value.
August Seria
Super Reviewer
Chromeskull: Laid to Rest 2` Quotes
There are no approved quotes yet for this movie.