Chronicles of an Exorcism
(2008)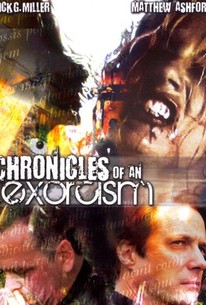 AUDIENCE SCORE
Critic Consensus: No consensus yet.
Movie Info
Take a nightmarish journey into devastating darkness as two men of the cloth and a dedicated pastor band together against the most feared demon in the supernatural realm. Father Michael (Matthew Ashford) and Father Lucas (Nick G. Miller) are about to face the ultimate evil. The mission: save the soul of a little girl named Tina (Dara Wedel) whose soul has been swallowed by a force more sinister than the human mind could ever fathom. In order to ensure that there is a detailed document of the exorcism, the church recruits a pair of amateur filmmakers (Rob Kahn and David Michael Ross) to keep cameras rolling no matter how frightening the situation becomes. Later, the filmmakers and two priests are joined by a local pastor (Ray W. Keziah) whose willingness to stare into the abyss undaunted might just give them the strength to save a young girl from eternal damnation.
Critic Reviews for Chronicles of an Exorcism
Audience Reviews for Chronicles of an Exorcism
Saw this on Netflix instant watch, just after I watched similar film "The Exorcist Chronicles". This is decent for a found footage horror film, though the best scare (the cornfields one) becomes the worst scare when the cut uses it fives times instead of just once. I can't rate this film too highly because I hate found footage horror and I'm not into the exorcism subgenre. If you are into both of those horror subgenres, this may be a guilty pleasure gem for you. Our priests start out and stay pretty damn believable, but the possessed girl totally ruins the movie with poor acting, though she looks the part in medium shots, and the cameramen aren't performing to acting task either. I do like that the film references actual demons but I've no idea if the specifics are correct (I can recognize names and know some basic facts but I'm far from a demonologist). One big (maybe) error is that the possessed's local priest is Methodist and the consulted exorcists are obviously Catholic; I'm not sure this sort of cross-organizational cooperation occurs as I'd think the Catholic church wouldn't send representatives to care for a non-Catholic. Besides the possessed girl being acted weakly, the possessed afflictions are stereotypical in terms of film language (stigmata, flashing lights, warped voice, creepy contact lenses, urination, Tourette's style cursing, "tempting" a priest). I admit that the creepy contact lens is indeed creepy when at the end one character has one eye creepy and the other normal. But with both in, it quickly becomes too normal to scare with. This film is marginally better than incredibly similar film The Exorcist Chronicles.
_kelly .King
Super Reviewer
Chronicles of an Exorcism Quotes
There are no approved quotes yet for this movie.