The Chronicles of Riddick
(2004)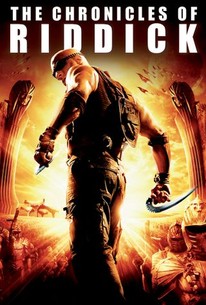 The Chronicles of Riddick Videos
The Chronicles of Riddick Photos
Movie Info
Vin Diesel returns as the nocturnally gifted antihero Riddick in this sequel to the 2000 cult item Pitch Black. Riddick, on the run from the law and evading mercenaries eager to claim the price on his head, seeks refuge on the planet of Helion, only to discover he's walked into a world in chaos. Helion has been seized by the Lord Marshall (Colm Feore), leader of the Necromongers, a race of bloodthirsty warriors determined to wipe out humanity throughout the universe. Aereon (Judi Dench), leader of Helion's "elementals," pleads with Riddick to join them in their fight for survival; Riddick agrees, hoping to fill out some of the blank chapters in his history along the way. As he plots his battle strategy against the Necromongers, Riddick becomes reacquainted with Kyra (Alexa Davalos), whom he knew as a girl but has since grown into a strong and beautiful woman eager to join him in the fight against the Lord Marshall. ~ Mark Deming, Rovi
News & Interviews for The Chronicles of Riddick
Critic Reviews for The Chronicles of Riddick
Audience Reviews for The Chronicles of Riddick
½
Riddick returns to discover that he is a warrior prophesied to end the brutal reign of a race of religious zealots conducting a crusade against the rest of the universe. I was a fan of David Twohy's previous work, particularly the original to this somewhat bloated sequel Pitch Black which was a visually stylish sci-fi horror that inventively transcended it's meagre budget. In this however he has the keys to the toyshop and wantonly plunders from Macbeth, Krull and everything in between. He is clearly trying to do Star Wars in the style of Dune, but falls a little short of the epic scale he was aiming for because the mythology he has created is slightly unconvincing and the somewhat episodic plotting. The story is little more than a series of excuses for spectacular set pieces and some of the dialogue is clunky at best, but it never bores and is always a visual feast; the special effects stand up well today and it has some wonderful production design. In fact this film is guilty of a lot of the same self indulgent excess as the Star Wars prequels, but with one major difference: Twohy can actually direct. It won't be to everyone's taste but if you are a fan of pulpy sci-fi, it should be a fun ride.
Mediocre follow up to Pitch Black, I was very much let down by this sequel, and I felt it was a tiresome, boring movie that tried way too hard at outdoing the original. The biggest problem with that is, Pitch Black was never a great film, and it was a film that boasted impressive action with an average story and an average cast. Overall that film needed a lot of work to make it a memorable outing, and left a lot to be desired. The Chronicles of Riddick is a picture that suffers from an underdeveloped script and it tries to put way too many elements on-screen that don't work. This film is a mess from start to finish and way too long for what it is. I think the film should have been shorter, and that the script should have been reworked significantly. There were a few interesting ideas, but overall, like I said, it's a mess because the film is all over the place. If you've enjoyed the first film, you may be let down by this sequel. The Chronicles of Riddick is yet another follow up that fails to expand and deliver something better than the original. Pitch Black wasn't perfect, and it left a lot to be desired, but it was entertaining and fun. This on the other hand is a strained picture that fails in delivering anything really interesting for the viewer. This movie is purely for Diesel fans, and no one else. Don't go into this one expecting a better film than Pitch Black, you'll be disappointed as The Chronicles of Riddick is all over the map, and you're trying to figure out what's going on, on-screen. Like I said, it's a mess of a picture, and overall it's just boring, dull and ultimately not interesting. This film should have been much better, instead it just falls flat.
½
Whose bright idea was it to put a gritty brawny action hero into some bizarre, convoluted Shakespearean Sci Fi Opera? I seriously can not believe that Pitch Black and this piece of crap was written by the same guy. The style and tone is completely different and not for the better. I also can't believe the production values on this thing, that's just irresponsible. Not all the badassery in the world could have saved this piece staged rubbish.
Drake Tsui
Super Reviewer
The Chronicles of Riddick Quotes
| | |
| --- | --- |
| Richard B. Riddick: | Tea actually. |
| | |
| --- | --- |
| Toombs: | If I owned this place and Hell, I'd live in Hell and rent this place out. |
| Toombs: | If I owned this place and Hell, I'd rent this place out and live in Hell. |
| | |
| --- | --- |
| Lord Marshal: | These are his last moments!! |
| Lord Marshal: | These are his last moments! |
| | |
| --- | --- |
| Lord Marshal: | Join him, or join me. |