C.H.U.D. (Chud)
(1984)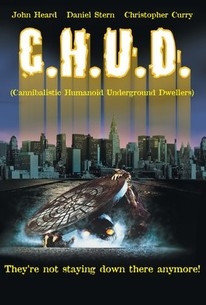 Movie Info
People are disappearing all over the Big Apple. Nobody cares, though, because most of the missing are homeless. But when investigative reporter Murphy (J.C. Quinn) tips off principled photographer George Cooper (John Heard) to a government conspiracy involving the dumping of nuclear waste beneath the streets, Cooper decides to dig a little deeper. Soon he discovers the existence of C.H.U.D.s, or "Cannibalistic Humanoid Underground Dwellers," derelicts who have become grotesque monsters after being exposed to the mountains of hazardous waste. Meanwhile, Captain Bosch (Christopher Curry), a cop whose wife is among the missing, forms an unlikely alliance with the Reverend (Daniel Stern), a leftist soup-kitchen cook who knows the score. Murphy, Cooper, Bosch, and the Reverend soon run up against the stonewalling tactics of Wilson (George Martin), a government toadie. As the titular monsters begin to tire of their underground habitat, the protagonists -- including Cooper's wife, beautiful model Lauren Daniels (Kim Greist) -- face a race against time to defeat not only the C.H.U.D.s, but the government's cover-up. The debut, and only film, from writer Parnell Hall and director Douglas Cheek, C.H.U.D. was followed by 1989's C.H.U.D. 2: Bud the C.H.U.D. Co-stars Stern and Heard would later appear together in the first two Home Alone pictures, while Curry would appear in the third.
Critic Reviews for C.H.U.D. (Chud)
Audience Reviews for C.H.U.D. (Chud)
½
For a film with a cheesy, self-explanatory title, the characters are shockingly well-developed and multilayered. A seemingly random attack in the opening actually interlocks with Bosch's rabid motivation in determining the source of the disappearances. George is a cynical photographer whose girlfriend is expecting their first child. Reverend is an ex-convict who is mystified why his homeless customers are not frequently returning. Everyone in the cast (which is like a 'Home Alone' reunion) grounds the mutant shenanigans around them. A scene with a geiger count and a hazmat team skulking through the sewer is eerily reminiscent of 'Aliens' which proves its influence on other filmmakers. Truthfully, the monsters are only glimpsed occasionally and should've had more screen time. In summation, this is a pungently written, suspenseful and loquacious B-movie that is the epitome of why 80's horror movies were superior to current horror movies: we mold an inextricable bond with the characters and feel squeamish when they are in danger.
Cory Taylor
Super Reviewer
½
I really couldn't get into this movie, most of it was really dull. There were some exciting and bloody scenes, but they're towards the end. The ending is really confusing and stupid, too. Overall, this isn't a good movie, but it could be a lot worse.
Interesting idea for a Horror film, CH.U.D or Cannibalistic Humanoid Dweller is a film about a clan of mutants living in the sewers of New York City. The film is very original, fun, disgusting and makes for interesting and must see viewing for every horror fan. But this B movie classic does suffer from being a tad too slow. Despite this speed bump, Chud is always entertaining and the antics of actor Daniel Stern make this film quite entertaining. The story focuses a lot on New York City Cop, Capt Bosch and the disappearance of his wife. Soup Kitchen owner which is played by Daniel Stern, knows what is really going on, and of course no one listens till it's too late. Chaos ensues and the city is under siege by these humanoid cannibalistic creatures. Chud is an accomplished horror film that is fairly eccentric in it's execution. Everything about the film is gritty and nasty as it should be. The film itself looks great with such details and it adds much more atmosphere to this type of picture. If you love a good monster film, then give C.H.U.D a look, it';s quite different from most films out there dealing with monsters. Chud is a fun film, and one film that remains one of the weirdest of it's kind.
C.H.U.D. (Chud) Quotes
There are no approved quotes yet for this movie.