A Chump at Oxford
(1940)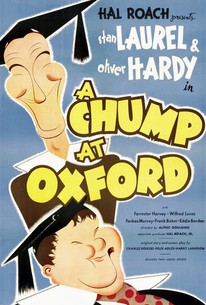 AUDIENCE SCORE
Critic Consensus: No consensus yet.
Movie Info
Back at Hal Roach Studios for the first time since 1938's Block-Heads, Stan Laurel and Oliver Hardy star in the uneven but generally rewarding A Chump at Oxford. The boys are cast as street-sweepers who hope to better their lot in life by attending night school. Fate intervenes when Stan and Ollie are instrumental in the capture of a bank robber, whereupon they are rewarded by the bank's grateful president (Forbes Murray) with an all-expenses-paid education at England's Oxford University. Arriving on the venerable old campus dressed in Eton jackets, our heroes are pounced upon by a group of prankish students and subjected to all manner of practical jokes. After spending most of the night trying to escape from a maze, Stan and Ollie are installed in their "new quarters"-which turns out to be the bedroom of the Dean (Wilfred Lucas). This sort of collegiate nonsense comes to an end when it is discovered that simple-minded Stan is actually Lord Paddington, the brainiest student and finest athlete that ever attended Oxford. According to Meredith the valet (Forrester Harvey), His Lordship wandered away from the university upon being rendered an amnesiac by a blow on the head. An accidental tap on the noggin restores Stan to his aristocratic Lord Paddington status, whereupon he beats up a crowd of bullying students and deposits them one by one in a nearby ditch. Though Ollie is aghast to learn that Stan-er, His Lordship-has no recollection of their previous friendship, he decides to stay on at Oxford as Paddington's manservant. After having been humiliated once too often by his vain and condescending employer, Ollie angrily packs his bags and prepares to head for home, when yet another bop on His Lordship's skull causes him to revert to lovable, bumbling old Stan again. Originally intended as a four-reeler (running approximately 45 minutes), A Chump at Oxford was completed in the spring of 1939, whereupon Laurel and Hardy were loaned out to producer Boris Morros to star in The Flying Deuces. When shooting was finished on the latter film, the team was summoned back to Roach to film a 2-reel "prologue" for Oxford, bringing the film's running time up to 63 minutes. The new footage consisted of a reworking of the boys' 1928 comedy From Soup to Nuts, with temporary servants Stan and Ollie unintentionally wrecking a dinner party held by Mr. and Mrs. Vandevere (played by veteran L&H supporting players James Finlayson and Anita Garvin). The patchwork stucture of A Chump at Oxford works against its overall effectiveness, but the scenes in which Stan Laurel undergoes a complete change of character as the genius-level Lord Paddington more than make up for the film's earlier shortcomings. One of the students (the tall, mustachioed one) is played by Peter Cushing, in his second Hollywood film appearance.
Critic Reviews for A Chump at Oxford
All Critics (4) | Fresh (4) | Rotten (0)
Laurel and Hardy are together again -- this is better news than anything the papers print. A Chump at Oxford ranks with their best pictures.
Near the top of the hilarity meter of Laurel and Hardy greats.
October 30, 2004 | Rating: 4/5
Good Laurel and Hardy vehicle, but far from their best.
July 8, 2004 | Rating: 4/5
Audience Reviews for A Chump at Oxford
There are no featured audience reviews yet. Click the link below to see what others say about A Chump at Oxford!
A Chump at Oxford Quotes
There are no approved quotes yet for this movie.