The Chumscrubber
(2005)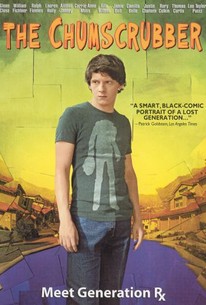 Movie Info
The death of a troubled teen throws a suburban neighborhood into chaos in this darkly satirical comedy. Dean (Jamie Bell) is a disaffected teenager living in a California suburb that's beautiful on the surface but populated by families who live emotionally vacant lives, with the parents often too wrapped up in their own problems to pay attention to their children. One day, Dean discovers his best (and only) friend, Troy (Josh Janowicz), has killed himself. While Troy's mother (Glenn Close) hasn't figured out her son is dead just yet, Dean opts not to tell her, and besides, his own parents (William Fichtner and Allison Janney) don't appear very concerned. Dean, however, does have reason to worry -- Billy (Justin Chatwin), Lee (Lou Taylor Pucci), and Crystal (Camilla Belle) are three bullies who used to buy drugs from Troy, and they want Dean find Troy's remaining stash and give it to them. When Dean refuses to cooperate, the bullies decide to get tough and kidnap Dean's little brother; however, they end up taking the wrong child and Dean grudging finds himself trying to rescue a child he doesn't know. Meanwhile, as the adults in the neighborhood begin to emotionally implode, "the Chumscrubber" becomes a common presence in town -- a comic book and video game character represented by a decapitated post-apocalyptic teenager who has become an unavoidable pop-culture icon. The Chumscrubber also features Ralph Fiennes, Carrie-Anne Moss, John Heard, and Rita Wilson.
News & Interviews for The Chumscrubber
Critic Reviews for The Chumscrubber
Audience Reviews for The Chumscrubber
A high school student is blackmailed into recovering a stash of drugs from his dead friend's house by the school bully who kidnaps an innocent boy for leverage. The plot of The Chumscrubber is basically an "indie" version of Alpha Dog, and the whole thing comes across as a patchwork of ideas stolen from American Beauty, Heathers and Donnie Darko. But the biggest problem with it is the fact that not one of the characters is even remotely likeable. They're just a bunch of self absorbed jerks who have zero interest in anyone but themselves and it's impossible to give a crap about any of them. Even Jamie Bell, who is supposed to be the "hero" is just a smug, dour little prick who you just want to slap. There's some kind of message in here about reliance on quickie solutions to life's problems like self help or pill popping, and the scene between Bell and Close at the end does have some of the heart missing from the whole of the rest of the film. But it makes no coherent points on the subject matter and the whole thing is just a derivative, unfunny and slightly tedious shambles that pales in comparison to ALL of the films it rips off.
½
In suburbia, a teen who recently discovered the dead body of his best friend must recover the dead kid's drugs before his classmates kill a kidnapped boy. I was reminded of Alpha Dog when the victim of a drug-related kidnapping rather enjoys the experience compared to the stifled restrictions of suburbia, but there is more going on here, and nothing about the drug-dealing lifestyle is glorified. The film's message, condemning the self-absorbed nature of the suburban parents and seeing the kids growing up too fast, encountering issues way beyond their age group, is entirely clear. However, the film's tone is uneven. Often I thought that there were two conflicting styles at play: the parents were in a scathing satire, with Mrs. Johnson's repeated "I in no way blame you for Troy's death" and Michael's vacant-eyed dalliances, and the kids were in a teen drama in the vein of Havoc. This juxtaposition works sometimes, but most of the time I was left wondering if these styles would ever converge; they do eventually, but it's too late and too little. Overall, I'm sympathetic to the film's argument, and I think much of it is well-done, but there
Jim Hunter
Super Reviewer
½
Along the style of a Donnie Darko.... I enjoyed this movie just because it is different than the regurgitated Adam Sadler crap that is always out there! Jamie Bell is a fine actor. Ralph Fiennes could have just stayed home, his character in no way added anything to the movie for me.
Thomas Johnston
Super Reviewer
The Chumscrubber Quotes
There are no approved quotes yet for this movie.