Chutney Popcorn
(1999)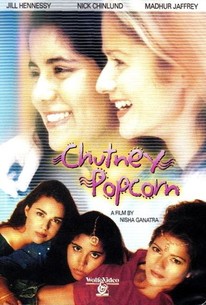 Movie Info
The push and pull of familial bonds and clashing cultures sets the stage for the comic drama Chutney Popcorn. Renna (Nisha Ganatra) is a young woman of Indian descent living in New York, where she works as both a photographer and a body artist who creates henna tattoos. Renna is also a lesbian, which does not please her mother, Meenu (Madhur Jaffrey), who prefers to dote on her more traditionally minded (and happily married) daughter Sarita (Sakina Jeffrey). One day, Renna gets some bad news from Sarita: While she and her husband have been trying to have a baby, her doctor has informed that her she is infertile and will never bear a child of her own. Renna volunteers to serve as surrogate mother for Sarita; she wants to help her sister and hopes this will smooth some of the rough spots in her relationship with her mother. But Renna starts to have second thoughts, as her lover Lisa (Jill Hennessy) feels left out of the loop, and Meenu thinks both Renna and Sarita are making a mistake. Nisha Ganatra co-wrote and directed Chutney Popcorn and also plays Renna; the film was enthusiastically received in its screening at the 1999 Los Angeles Independent Film Festival.
Critic Reviews for Chutney Popcorn
Audience Reviews for Chutney Popcorn
Fantastic movie by Nisha Ganatra!! Great story plot. Filled with a bit of hilarity, but intriguing story about Reena and her sister. Great cast! Phenomenal music!! Worth watching.
Chutney Popcorn Quotes
There are no approved quotes yet for this movie.