Cinderella Man
(2005)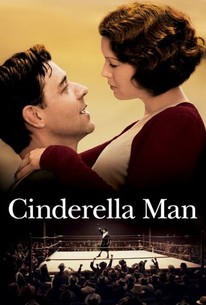 TOMATOMETER
AUDIENCE SCORE
Critic Consensus: With grittiness and an evocative sense of time and place, Cinderella Man is a powerful underdog story. And Ron Howard and Russell Crowe prove to be a solid combination.
Movie Info
The true story of an athlete who achieved his greatest success against the most daunting odds of his life is brought to the screen in this historical drama. In the 1920s, James Braddock (Russell Crowe) from Bergen, NJ, was a promising contender in professional boxing; he had strength, spirit, and tenacity, but the combination of a serious hand injury and a 1929 defeat in a bout with light heavyweight champ Tommy Loughran sent his career into a serious tailspin. As Braddock's career in the ring dried up, the Great Depression put a stake through the heart of America's economy, and Braddock found himself working at the New York docks for pitiful wages as he tried to support his wife, Mae (Renée Zellweger), and three children. Desperate for money, Braddock turned to his former trainer and manager Joe Gould (Paul Giamatti), who was unexpectedly able to scare up a bout for him, battling John Griffin at Madison Square Garden. While conventional wisdom had it that Braddock was too old, out of shape, and out of practice to have any chance of winning, he defeated Griffin, and continued beating his opponents with a powerful left hook that had been intensified by years of punishing dock work. In a nation desperate for good news, Braddock's surprising comeback became a tonic to struggling workers and unemployed people, and all eyes were on Braddock when in 1935 he took on powerful heavyweight champion Max Baer (Craig Bierko) in what was both literally and figuratively the fight of his life. ~ Mark Deming, Rovi
Critic Reviews for Cinderella Man
Audience Reviews for Cinderella Man
Cinderella Man is yet another terrific Ron Howard film. Based on the life of James Braddock. The cast that Howard directs is incredible. Russell Crow deliver a great performance as struggling boxer James Braddock. Ron Howard has an eye for real life stories, and he definitely knows how to deliver a strong, powerful real life story on camera. Howard has got a great cast here, and they deliver strong performances. Renee Zellwegger delivers the second best performance of her career, and I think this film shows that she actually is able to act, and that she should pick more parts like this. This is a terrific film with a wonderful story. For me, it's hard to pick a favorite Ron Howard, almost all his films are great, with few that are awful. Cinderella Man is one of the best boxing movies since Raging Bull and is yet another solid work by director Ron Howard. The film has lots going for it, the film not only plays out as a terrific boxing drama, but the film evokes the troubles and the misery of the Great Depression very well. The story is engaging and the film is superbly directed. Cinderella Man is a well constructed, executed drama film and is one of Ron Howard's best films. If you enjoy boxing drama films, then you should check out Cinderella Man. A wonderful, well acted film that is a must see. Cinderella Man is one of the best boxing films that you can see.
When America was on its knees, he brought us to our feet. Saw it again! Perfect movie, no flaws whatsoever. Undoubtedly one or the best sports and boxing movies of all time. To me Russel Crowe on his best performance ever as an actor. Renee Zellweger and Paul Giamatti did a fantastic job too. The story is like no other, deeply touching and emotional. It touches you in ways only a movie can. Indeed, the characters and the story were the strong points of "Cinderella Man." Much credit should go to Cliff Hollingsworth for a screenplay that included thoughtful dialogue, humor, and multi-dimensional characters. Daniel Orlandi also merits praise for the brilliant costumes that helped to recreate the period of the early 1930s. But the heart of this film experience is Russell Crowe's screen portrayal of Braddock. It was the colorful sportswriter and raconteur Damon Runyan who coined the nickname of "Cinderella Man" for Braddock. However, the real James J. Braddock was more than lucky. It was his strength of character in and out of the ring that captivated America. One of the most moving scenes of the film was a heated argument between Braddock and his wife Mae where Braddock insists that even in the most difficult of times, he would refuse to be separated from his children. As a boxer, he was fearless. But he demonstrated even more courage in fighting for family values a lesson from which we can learn a great deal today in reflecting on this sensitive film. The story takes place in New York and New Jersey during the Great Depression, a time when people experienced the worst economic hardship in U.S. history. James J. Braddock (Russell Crowe) was a light heavyweight boxer, who was forced to retired from the ring after breaking his hand in his last fight. His wife Mae (Renee Zellweger) had prayed for years that he would quit boxing, before becoming permanently injured. To support his family, Braddock works as a laborer at the docks, but he still has a dream to box. Several years after his last fight, Braddock's old manager wants him to be a last-minute substitute to fight against the second-ranked world contender. In this case, Braddock is one of those hungry fighters who astonishes everyone by winning the fight. Braddock is back in the ring and begins to win all his fights against younger, stronger, and heavier boxers. In a sports article, Braddock is named the "Cinderella Man" for his miraculous comeback. Braddock gets a chance to fight the heavyweight champion, Max Baer (Craig Bierko), for the title. Max Baer had killed two men in the ring, and everybody believed Braddock would be number three. As the underdog, Braddock became the champion of the downtrodden masses.
At first sight, Ron Howard's 'Cinderella Man' may seem like a better movie than it actually is. Not until after the credits role do you realize that you completely fell for Howards' techniques of dressing up the script and putting on a show. What Cinderella Man lacks in originality is made up for in pure entertainment. Russell Crowe drags a certain amount of depth into the character to make him a reliable protagonist, although a little uninteresting. An evocative story with good performances and great entertainment value. A strong contender in the challenging competition of boxing films.
Kase Vollebregt
Super Reviewer
Cinderella Man Quotes
| | |
| --- | --- |
| Max Baer: | This isn't a joke, pal. People die in fairy tales all the time. |
| | |
| --- | --- |
| Mae Braddock: | Every time you get hit, it feels like I'm getting hit, too. |
| | |
| --- | --- |
| Jim Braddock: | If we can't stay together, that means we've lost, that means we've given up! |
| | |
| --- | --- |
| Jim Braddock: | This time around I know what I'm fighting for [reporter asks 'What's that, Jimmy?'] |
| Jim Braddock: | Milk. |