Circus of Horrors (Phantom of the Circus)
(1960)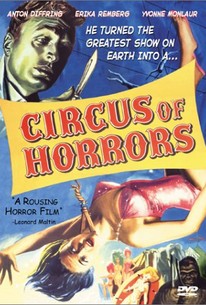 AUDIENCE SCORE
Critic Consensus: No consensus yet.
Circus of Horrors (Phantom of the Circus) Photos
Movie Info
One of a small cluster of creepy films to come from England's Amalgamated Studios in the late '60s, this lesser entry details the twisted practices of a deranged German plastic surgeon (Anton Diffring) who hides out in France after mutilating a patient and begins his work anew under an assumed name. Staying mobile by traveling with a circus troupe, Diffring offers his services to disfigured female criminals, who pay him for his services by joining the circus as performers -- and by catering to his perverse whims. Naturally, it's not long before the ladies' gratitude begins to wear thin, and they begin to plan their escape... only to meet horrible ends in carefully-orchestrated catastrophes while performing. Viewers may find themselves haunted by Gary Mills's "Look for a Star" several days afterward like a cloying advertising jingle; the performance of a rug-topped Donald Pleasence (as the show's former owner, who meets with a sticky end) is a nice touch. ~ Cavett Binion, Rovi
Critic Reviews for Circus of Horrors (Phantom of the Circus)
Audience Reviews for Circus of Horrors (Phantom of the Circus)
Dull horror flick from schock distributor AIP. The plot points are WAY too convoluted for a movie of this genre. A famous plastic surgeon terribly botches a woman's face, changes his name and runs away with his assistants/henchpersons, by chance comes across a run-down circus, buys it from Donald Pleasance (with hair!), staffs it with criminals who he does surgery on so they'll be beautiful and unrecongnizable to the authorities, but he keeps dossiers on all of them so if they try to leave and expose him, he can expose them back, but that doesn't matter because he falls in love with all the women, and when they try to leave he kills them during their circus performances, and....aww, to hell with it. Not bad enought to be fun. Just bad.
Circus of Horrors (Phantom of the Circus) Quotes
There are no approved quotes yet for this movie.