Circus World
(1964)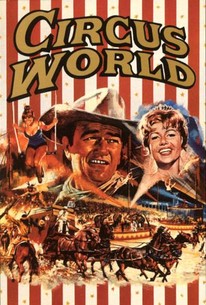 Movie Info
Filmed in Cinerama and Technicolor, Circus World may have drawn the crowds for various reasons -- not the least, perhaps, for the big names. John Wayne stars as circus owner Matt Masters, who takes his show to Europe hoping to save it from financial ruin. Accompanying Matt, is young Toni (Claudia Cardinale), whom Matt had raised since her aerialist mother Lili (Rita Hayworth) left them years before. Just before he departs from New York, Matt is reminded that Lili may be somewhere in Germany. Upon their arrival in Europe, much of the equipment is lost when their ship sinks in a Spanish port. Matt doesn't let that get the best of them, and he is soon up and running with the show, becoming a hit throughout Europe. Against Matt's wishes, Toni trains to become an aerialist like her mother. A quiet figure in the shadows proudly watches Toni rehearse her daring routines. The writing team of Ben Hecht, James Edward Grant and Julian Halevy adapted their screenplay from a story by Philip Yordan and Nicholas Ray. Though this was not a gunslinger role for Wayne, Matt Masters was not a far stretch. This could have been due to the fact that Wayne had previously worked on several projects with director Henry Hathaway and writers Hecht and Grant -- and the part was altered to suit him.
Critic Reviews for Circus World
Audience Reviews for Circus World
It's a big production of a film, but still essentially a minor soap opera with the Duke running a circus/Wild West show. Despite the name of the movie, the traditional circus acts are given nearly an incidental status (except for the clowns) whereas the Wild West portions are shown in their entirety (I wonder why?). But Rita Hayworth as a tortured runaway mom centers and steals the whole magilla, elegant and magnetic in her matronly years.
Kevin M. Williams
Super Reviewer
½
Worth seeing for the odd pairing of John Wayne and Rita Hayworth. They actually interact well but Rita's part is minor considering her star status and the story is weak. Claudia is lovely but totally unbelievable as Duke's daughter speaking with her natural Italian accent while supposedly being raise by him, he of course talks like John Wayne. Not a terrible film but diffuse and without a strong point of view, that may be because the film was begun by Frank Capra and finished by Henry Hathaway so there was no clear vision as to the shape the film was suppose to offer.
Circus World Quotes
There are no approved quotes yet for this movie.