City for Conquest
(1940)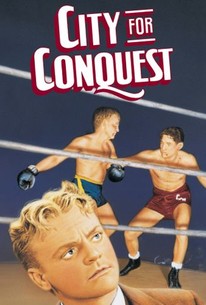 Movie Info
This filmization of Aben Kandel's novel City for Conquest stars James Cagney as a truck driver-turned-boxer. As Cagney rises to the top in the ring, his ex-girlfriend Ann Sheridan forms a dance act with Anthony Quinn. Blinded during a fight by acid-tinged boxing gloves, Cagney tries to exact revenge on the gangster who arranged the "accident," but is wounded in the melee. Now physically handicapped as well as visually challenged, Cagney becomes the manager of a New York newsstand through the kindness of his former manager Donald Crisp. Cagney uses his earnings to finance the musical education of his violinist brother Arthur Kennedy. Years later, a jilted Sheridan is reunited with Cagney at his newsstand, as both of them listen to the radio debut of Kennedy's first symphony. Upon its reissue in 1948, the film then ends abruptly (as do several preceding scenes) in order to fit a 98 minute running time; the original 1940 release ran 106 minutes.
Critic Reviews for City for Conquest
Audience Reviews for City for Conquest
Ann Sheridan is on a quest for fame and fortune. Jimmy Cagney is on a quest for Ann Sheridan. A terrific little rags to riches to rags story replete with music and boxing and a dancing Anthony Quinn.
Randy Tippy
Super Reviewer
I love these old boxer movies, Cagney is perfect for this part too. I loved this movie it's really dramatic and exciting. I highly recommend it.
½
When you think of James Cagney, your thoughts might gravitate towards some of his movies like Public Enemy, White Heat or Yankee Doodle Dandy, right? You never hear anyone gush over City for Conquest. Reason being its a flat, dull and dragged out tale of slum kids following their dreams and blah blah blah. Cagney plays the likable tough guy, Ann Sheridan plays his (asshole) girl and Arthur Kennedy plays Cagney's kid brother. Oddest thing is that City for Conquest is the kind of movie that's right up my alley but it was so unengaging and drab that by the time the tragedy hit I didn't care. Seeing a young Anthony Quinn and Elia Kazan was kind of amusing but once Cagney's character goes blind (I didn't blow anything the synopsis above didn't so don't get mad for the lack of spoiler alert...) he's just really creepy. And the whole ageless bum thing was just dumb.
Michael Gildea
Super Reviewer
City for Conquest Quotes
There are no approved quotes yet for this movie.