City Heat
(1984)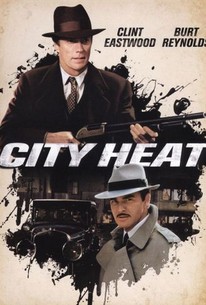 Movie Info
This standard, tongue-in-cheek, gangsters and good guys saga is carried on the star power and screen presence of Clint Eastwood as Lt. Speer, a taciturn, tough, play-it-by-the-book cop, and on Burt Reynolds as Mike Murphy, Speer's old friend in the force, now turned private eye but still a captivating rogue at heart. With a sub-text of playing their well-known screen personas off each other, Eastwood and Reynolds provide more than a surface interpretation of the characters that made them famous. After Murphy's partner is murdered, he focuses on pitting one mob boss against another in an attempt to have both mobsters kill each other. In the meantime, Lt. Speer -- who has never approved of Murphy's private detective business -- does not really know if Murphy is for or against the two top gangsters. Set in the era of speakeasies and Prohibition, an added layer of "film noir" can be discerned under the complex plot, verbal repartée, and episodes of toned-down violence (a kind of parody in themselves). Although this may not be the best film either star has made, it is still interesting to see them together on screen.
Critic Reviews for City Heat
Audience Reviews for City Heat
It's a buddy movie with a nostalgic twist thrown in much like The Sting only ... Burt Reynolds. He's in one movie (like maybe The Naked Gun, as Lt. Frank Dreblin), and everyone else is in another. By the end of the effort one begins to have grown a tolerance for his look-at-me antics, but it takes a long time to get there. In the other movie, the one w/o him, everyone does just fine, particularly Jane Alexander.
Kevin M. Williams
Super Reviewer
½
Two major Hollywood tough guy legends team together for this 30's period set comedy/crime thriller which doesn't quite get there. Its basically an buddy action flick but for some reason they have forgotten to include some action haha there is allot of dialog and its all pretty dull, everything looks damn fine to be truthful though. All the sets, costumes and cars look really nice and compete easily with say...'The Untouchables' but as usual Eastwood plays his usual cliched tough guy with no rules whilst Reynolds fairs better with some reasonable laughs as the smooth talking danger magnet who is also handy with his dukes. Bit of a flop when released and I can see why as this really does stand out as a missed chance for a good film, the blend does work almost but its just lacking some originality and punch.
Phil Hubbs
Super Reviewer
½
Reynolds is gumshoe Mike Murphy while Eastwood is rival Lieutenant Speer of the KC Police Department. Earlier, Reynolds had been on the Department, had been Eastwood's partner, in fact; but once he went out on his own the animosity grew between the two until they set off sparks every time they met. This time, the two are thrown together in a case where Reynolds' partner, Dehl Swift (Richard Roundtree) is murdered by gangland thugs. They decide to pair up and work together, despite their differences. Now, if you believe that Roger Ebert is always right, stop reading right here. Ebert called City Heat one of the worst films of 1984. I'm here to tell you he was wrong. City Heat is a great spoof of the gangster dramas starring Jimmy Cagney, Edward G. Robinson, and Humphrey Bogart. I've seen them all, and love them every time I see them. City Heat has the same charisma that the old 30s gangster films have, but has substantial comic relief as well. Clint Eastwood and Burt Reynolds are at the top of their game here, with split second comic timing. If you don't think Clint Eastwood would do well at comedy, well you haven't seen City Heat. The film started out as a Blake Edwards production, but once Reynolds came on board he nixed the idea of Julie Andrews (Edwards' wife) playing the part of the gun moll that later was taken up by the late, great Madeline Kahn. Eastwood stuck by Reynolds and Edwards was so terrified of Clint that he bailed and the project was given to Dick Benjamin, who did a fine job putting together the production. Edwards still got credit for the screenplay, using the pseudonym Sam O. Browne - S.O.B. The film did moderately well at the box office, but the major critics gave it thumbs down, unfairly in my opinion. I've owned this film ever since it was released on VHS and then on DVD and everybody I've screened it with has given it a big two thumbs up, and I never tire of seeing the antics of Eastwood and Reynolds and the sterling supporting cast, including Jane Alexander, Rip Torn, Tony Lo Bianco, Robert Davi, and of course Richard Roundtree and Madeline Kahn. Plenty of fisticuffs, gunbattles, and car wrecks will keep the action fans delighted as well as the witty banter. The story concerns a set of stolen books that will provide evidence against one of the two mob families in Kansas City. Dehl Swift (Richard Roundtree) has bribed the bookkeeper to give up his boss, but tries to start a bidding war between the two mob families. Not being smart enough to play the two sides off against each other he is bumped off and this is where Reynolds and Eastwood come in. Reynolds tracks down the books but the gangsters kidnap Reynolds' girlfriend, Madeline Kahn who has some hilarious scenes cleaning the gang members out in a poker game back at the cathouse where they are holding her. With thugs on one side and Eastwood on the other, pressing Reynolds to give up the evidence, he has to use all his wits to 1) stay alive, and 2) stay out of jail long enough to rescue Kahn. The way all the subplots play out is really what you need to see if you want to be tickled pink with laughter. Now, I will be the first to admit that slapstick comedy is not Shakespeare, but it is entertaining. To sum up here, if your in the mood for a fun action comedy then this is worth a look.
David Ladd
Super Reviewer
City Heat Quotes
| | |
| --- | --- |
| Mike Murphy: | [Talking to Lt. Speer] I've been doin' it all wrong...I've been hiding. You just walk right down the middle of the street? There's two guys down there on left and there's two other guys down there on your right. There's four guys down there altogether.... |
| Mike Murphy: | [talking to Lt. Speer] I've been doin' it all wrong... I've been hiding. You just walk right down the middle of the street? There's two guys down there on left and there's two other guys down there on your right. There's four guys down there altogether... |
| | |
| --- | --- |
| Lieutenant Speer: | Sooner or later I'm gonna get those rats. |
| Mike Murphy: | I gotta feeling it's gonna be sooner. [car explodes] |
| Lieutenant Speer: | I thought you said you diffused that? |
| Mike Murphy: | I lied. |