City of Ghosts
(2003)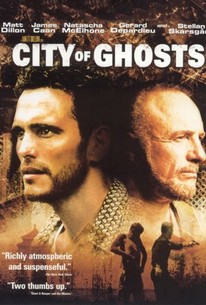 Movie Info
Jimmy Cremmins has been working as a front man for a bogus insurance company set up by his longtime mentor, Marvin. In the aftermath of a disastrous hurricane, claims against their fabricated coverage come pouring in. With Marvin living as an expatriate in Southeast Asia, Jimmy is forced to face the subsequent chaos and investigation on his own. He decides instead to flee and re-group with Marvin in Asia, against Marvin's wishes. After a short stay in Bangkok, Jimmy goes to Cambodia in search of Marvin. During his pursuit he finds himself a stranger in the mysterious and often hostile environs of Southeast Asia. With the aid of the duplicitous Kaspar, another of Marvin's business associates, Jimmy eventually finds Marvin, who attempts to convince Jimmy to join him in his latest venture, the development of a large scale casino with a Cambodian ex-general. But Cambodia is another world--one in which the rules are different, a world where violence isn't merely a threat but a reality--and even the savvy Marvin ends up in over his head. As Jimmy finds himself drawn further down a darkening path of deception, it also becomes his path of self-discovery.
Critic Reviews for City of Ghosts
Audience Reviews for City of Ghosts
Matt Dillion starred in and directed this atmospheric and interesting noir piece. It has many good moments, seemingly promising more than it ultimately delivers. The biggest drawback is it's meandering nature, never quite hitting the notes it wants to. A multitude to plots are served up, but never satisfactorily seen through. Still, I really enjoyed the film's sense of place, captured through some great cinematography.
Jeffrey Meyers
Super Reviewer
½
There were some good elements to this film ? yet it didn?t quite work for me. Enjoyed Matt Dillan (and of course he Directed this film also), loved the not so typical choice of using Cambodia as the backdrop to the story and really enjoyed the music too. Pretty natural performances all around. For me the downfall lay not in the actual plot, but in the actual story of corruption ? I felt it was weak, confusing and slow moving at times, it was more of a working progress.
Lady D'arbanville
Super Reviewer
City of Ghosts Quotes
There are no approved quotes yet for this movie.