City of Hope
(1991)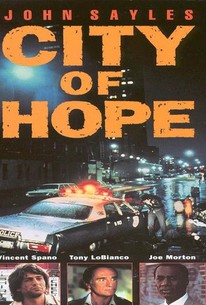 Movie Info
Set in the fictional New Jersey metropolis of Hudson, three intricately interwoven tales involving real estate, robbery, and racial tension comprise a complex study of crime, corruption, and political machinery.
Critic Reviews for City of Hope
Audience Reviews for City of Hope
½
This is a good movie. A film that tackles racial problems, politics, corruption, protests, and urban life. "City Of Hope" is the American microcosm where all these diffrent stories and where most of the characters bump into one another. Sort of like taking all these ingridents and adding it into the stirring pot. Filmmaker John Sayles has taken this interconnected story that would remind one of the works of Robert Altman, Paul Thomas Anderson or Paul Haggis. Cinematographer Robert Richardson photographs with his trademark of using a bright key light shinning vividly on the cast and uses reds, yellows and other sources of lights to enhance the story. It's funny to also see Richardson in a small cameo scene as one of the convicts sitting silently at a police precinct. John Sayles also plays a part in the picture as Carl. A corrupted mechanic who wants piece of the action. Sayles's performace is chillingly frieghtning and brilliant adding another layer in the city of hope. A city pulses with racial problems, political corruption, and small-time crime in this ambitious microcosm of urban life, written and directed by John Sayles. Nick Rinaldi (Vincent Spano), a lost soul usually high on drink and drugs, has spent his life in one New Jersey city, getting free rides from his connected father (Tony LoBianco) and hearing the locals talk of his brother's death in Vietnam. Searching for more control, Nick quits the cushy contractor's job provided by his Dad, feeling that major events are about to happen to him. That feeling proves accurate -- by film's end his life will change, as will the lives of many others. Nick is only the center of the movie's sprawling collection of people and plotlines; Sayles takes full advantage of this expansive landscape, as he often begins shooting one conversation, only to pull back and eavesdrop on another, in one smooth, intriguing shot. By listening in, we slowly learn about the citizens and their dilemmas, as the city's woes bubble to a narrative climax. Many of Sayles' regular players are on-screen (the movie features 52 roles), including Joe Morton as a frustrated councilman and David Strathairn as a disturbed street person.
½
Sayles best work by far. Simply an amazing film, a must for fans of the Wire. The fact this isn't available on DVD is proof of a cruel uncaring god.
Ken Stachnik
Super Reviewer
Another great Sayles ensemble cast piece.
Anthony Valletta
Super Reviewer
City of Hope Quotes
There are no approved quotes yet for this movie.