City of Joy
(1992)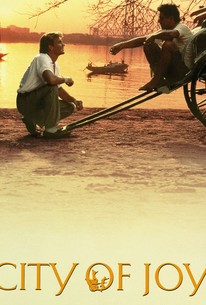 Movie Info
In this drama, a wealthy American doctor learns some important lessons about life in one of the poorest cities on Earth. Max Lowe (Patrick Swayze) is a Houston surgeon who has grown weary of the bureaucracy of American medicine. When he loses a patient on the operating table, Max impulsively decides to leave America and travel to India in the hope of "finding himself." Not long after he arrives in Calcutta, Max is attacked by a group of thugs and left without money or a passport. However, a man named Hasari (Om Puri) comes to Max's rescue. Hasari had left his farming community to come to the city, only to be overwhelmed by its dirt, crime, and overcrowding. Despite their poverty, Hasari and his family take Max in and bring him to a medical clinic in the City of Joy, one of the poorest slums in the city. The clinic is run by Joan Bethel (Pauline Collins), an Irish-American nun who urges Max to use his skills to help the people of Calcutta who so desperately need it. Max signs on, and he finds that the experience changes his life. City of Joy was based on a novel by Dominique Lapierre.
Critic Reviews for City of Joy
Audience Reviews for City of Joy
A fantastic depiction of the struggles of the Poor in Calcutta
Tom Ericksen
Super Reviewer
½
Patrick Swayze's character and story are a bit contrived, but the film is saved by Om Puri's superb performance as a fearful farmer who becomes a hero.
Dean McKenna
Super Reviewer
City of Joy Quotes
There are no approved quotes yet for this movie.