The City of Lost Children (La Cité des Enfants Perdus)
(1995)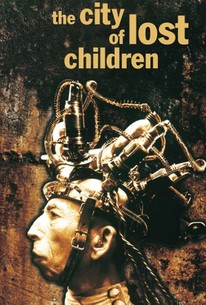 TOMATOMETER
AUDIENCE SCORE
Critic Consensus: Not all of its many intriguing ideas are developed, but The City of Lost Children is an engrossing, disturbing, profoundly memorable experience.
The City of Lost Children (La Cité des Enfants Perdus) Photos
Movie Info
In a futuristic city, a daemonic scientist named Krank kidnaps children to tap into their dreams.
News & Interviews for The City of Lost Children (La Cité des Enfants Perdus)
Critic Reviews for The City of Lost Children (La Cité des Enfants Perdus)
Audience Reviews for The City of Lost Children (La Cité des Enfants Perdus)
½
When a scientist kidnaps a brute's sister, he must join a group of urchins to retrieve her. Jean-Pierre Jeunet, one of our most imaginative and interesting filmmakers, throws all his cards on the table in this film. At each turn, Jeunet's world unfolds, and it's a dark vision in which a mad scientist can steal children's dreams, clones vie to be the Original, and a muscle-bound, monosyllabic tough finds his heart of gold. The film is an experience - a convoluted and occasionally hard-to-follow one, and I can imagine some people finding this film to be a collection of gimmicks, but I found it compelling and interesting. Overall, Jeunet is a unique filmmaker, and good or bad, his films are always interesting.
Jim Hunter
Super Reviewer
This lumpy steampunk dark fable is a perfect example of too much style over substance, offering us astonishing visuals, a beautiful soundtrack and spectacular plot devices (like the chain of events originated by a teardrop) but not so able to use all that in a more meaningful narrative.
Carlos Magalhães
Super Reviewer
02/01/2011 (DVD) A very strange but interesting watch. The performances are outstanding by both adults and children and what a weirdly but fantastic world. It was like a silver-screen flick with updated visual effects which made this film feel unusual and different. Wow. The setting is art, I mean the ideas and the artistry compliments the story giving it depth and darkness. What had me drawn was the background, it was very darkly, futuristic for its time and Gothic yet the people were from the 1950's so it seemed, very cool indeed. It's probably not everyone's cup of tea but it's definitely the type of tea that has an unusual blend that one learns to enjoy. The special effects were not overly done but it just had the right amount for taste and the clones just look so real, like they were real individuals rather than camera tricks, just so cool. It's definitely a strange one in my opinion but no doubt a watchable feature. I did notice that "Hell Boy" speaks in tongues? Did not know that.
EightThirty .
Super Reviewer
The City of Lost Children (La Cité des Enfants Perdus) Quotes