City on Fire
(1978)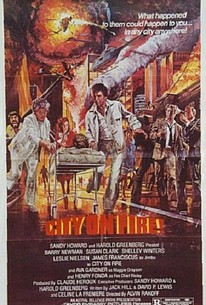 AUDIENCE SCORE
Critic Consensus: No consensus yet.
Movie Info
City on Fire, a disaster thriller filmed in Canada with dialogue in both French and English, tells the story of an oil-refinery explosion in a small town. Dr. Frank Whitman (Barry Newman) and his co-workers, including Nurse Harper (Shelley Winters) and Dr. Matwick (Donald Pilon), fight bravely to save the victims even when they, themselves are endangered by the fire. The film also features cameos by Ava Gardner and Henry Fonda. The film moves at a fast pace and creates a great deal of suspense as the fire closes in on the survivors. Director Alvin Rakoff uses creativity instead of a big budget and, aided by the splendid cinematography of Rene Verzier, succeeds in creating an exciting disaster film.
Critic Reviews for City on Fire
All Critics (2) | Fresh (0) | Rotten (2)
...a misbegotten endeavor that's rarely, if ever, able to live up to the potential afforded by its seemingly foolproof premise.
The attractions of City on Fire may be encapsulated thus: Fire destroys city. Not many stars killed. Except that 'dull', as criticism, scarcely does justice to the ludicrous contrivance of this disaster movie.
Audience Reviews for City on Fire
½
Closing in on the bottom of the barrel disaster flick makes no sense picking up and dropping plot points at random intervals. Shelley Winters at least tries to give a performance but Ava Gardner and Henry Fonda, both looking the worse for wear, obviously did it strictly for the loot and are phoning it in, Henry being the worst offender. If you're a disaster movie junkie this is a must see but for anyone else its a Grade Z mess.
½
A campy B-disaster film about a resentful pyromaniac caused the explosion at a local refinery in Canada and somehow set the entire town on fire. Shockingly, there were many well known actors in the film like Leslie Nielsen and Henry Fonda for instance. The acting was so bad that I cringed constantly, the dialogues were ridiculous. To be honest, it might have been better if this was a comedy.
Sylvester Kuo
Super Reviewer
City on Fire Quotes
There are no approved quotes yet for this movie.