City Rats
(2009)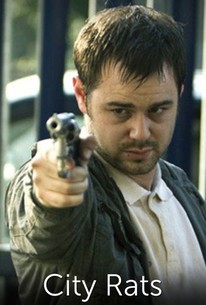 Movie Info
Connections made and missed form the foundation of this drama following the journeys of eight haunted Londoners in search of redemption. Jim is throwing watermelons off of a rooftop in preparation for a possible suicide when he spies Sue standing on an adjacent rooftop. She, too, is pondering a fatal plunge, and when Jim catches up to her they attempt to find another way out than straight down. Meanwhile, Sue's ex-boyfriend Dean has hit a creative slump. His paintings panned and his poetry eviscerated by critics, Dean is in search of a muse when he meets Gina, the experimental prostitute who lives next door. But Gina doesn't come free for anyone, and Dean quickly discovers that getting a new muse can go both ways. In the wake of a past fling with Dean, Olly is wrestling with his sexual identity. Assigned the task of watching after his deaf-mute brother Chris for the day, Olly discovers that his sibling is completely comfortable with his own homosexuality, and the duo set out on a quest through London's gay community in order to help Chris lose his virginity. On those very same streets walks Pete, a tormented former drug addict with many secrets. Carol watches Pete's every move from afar, hoping that he will eventually lead her to her long lost son, a man Pete used to know back in his violent drug days. Over time, Pete opens up to Carol, and the pair set out into the darkness in search of her son. Their journey will be treacherous, but Pete realizes that the risk of death is well worth one last shot at true redemption.
Critic Reviews for City Rats
Audience Reviews for City Rats
A pensive day in the life of eight Londoners, searching for sex or death, or maybe both. The story jumps around between each character so it takes a little while to catch up on who's who, especially since there's only a degree or two of separation between them all. Some of the acting is wooden enough to float but all that jumping around does keep you interested. Besides, who isn't interested in sex or death, or maybe both.
Danny Dyer, Susan Lynch and Tamer Hassan do their best to convince but City Rats is never more than a compendium of clichés hoping to amuse and move us. In the end it does neither.
Roy Gutteridge
Super Reviewer
City Rats Quotes
There are no approved quotes yet for this movie.