City Slickers
(1991)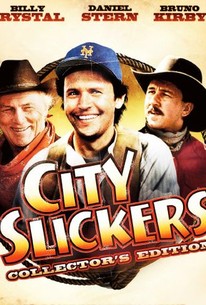 TOMATOMETER
AUDIENCE SCORE
Critic Consensus: With a supremely talented cast and just enough midlife drama to add weight to its wildly silly overtones, City Slickers uses universal themes to earn big laughs.
Movie Info
City Slickers blends sight gags, one-liners, and sincerity, with both humor and drama arising from the characters and their situations. Mitch (Billy Crystal) is a radio station sales executive who finds himself in the throes of a mid-life crisis; accompanied by two friends, Phil (Daniel Stern) and Ed (Bruno Kirby) in the grip of similar problems, he heads to New Mexico for his birthday to participate in a two-week "vacation" cattle drive to Colorado. The three friends and the rest of their group, including an attractive, newly single young woman and two African-American dentists, are all urbanites lost when it comes to herding cattle and surviving on the prairie; it's up to authentic, almost mythic cowboy Curly (Jack Palance, who won an Oscar for the role), to whip them into shape. As various adventures occur along the way, including run-ins with outlaw cattlehands, treacherous natural mishaps, and Mitch's delivery of a newborn calf, the three "city slickers" open up to each other, learn to appreciate Curly's Old West values, and begin to resolve their midlife dilemmas. When Curly dies, it's left to Mitch, Phil, and Ed to bring in the herd.
Critic Reviews for City Slickers
Audience Reviews for City Slickers
Fish-outta-water tale as a trio of urban yuppies venture out West to ultimately reevaluate their lacklustre lives. I came in set to disparage the proceedings simply because of the writers (Ganz and Mandel) but was pleasantly surprised with the unusual restraint shown. Should Palance have won the Best Supporting Oscar for this? No. Hollywood simply slipped him his Lifetime Achievement under the table, but he does provide the pungent illusion of what we, the audience, might consider the Ol'West to've been like. Not bad.
Kevin M. Williams
Super Reviewer
½
This was probably the first movie I saw that properly introduced me to Billy Crystal. Sure I had seen his other early movies and heard about that scene in 'When Harry Met Sally' (never actually saw the movie though), but none of those really stood out to me (a much younger me). Back in the day it was this comedy, rented from the trusty videoshop, that grabbed me and made me think this guy was funny. The other lure at the time was Daniel Stern who was fresh off huge success with 'Home Alone'. The plot follows a trio of middle aged men who are all suffering some sort of midlife crisis, or just a crisis. Eventually when they can no longer stand their lives anymore, they all decide to head off for a cattle driving ranch in New Mexico for a real cowboy getaway/vacation. At the ranch they meet up with various other regular folk who are also on the cattle drive experience for their own personal reasons, mainly to overcome negative ones. And so we have our male bonding tale of how three men discover themselves whilst in the wilderness and under the pressure of a very real situation. Could this be one of the ultimate feel good movies? The entire premise of this movie apart from the cowboy bits, is basically the male midlife crisis. Much of, if not all, of the dialog surrounds the three main characters chatting to each other, reminiscing and opening up to each other about various moments and aspects of their lives. Each character has a shit-tonne of baggage which gets slowly released over the runtime with various results, but mostly humourous and heart-warming. Its all about being a good person deep down, kinda vomit inducing I know but it actually works nicely, as an adult you can relate to these characters much more even though it still works well for kids. The cattle drive aspect of the story is the rather predictably obvious way in which these guys, and their new friends, come together to overcome danger and personal conflict by working together. This is the main crux of the movie and deals out everything you would kinda expect from this type of flick. We naturally get the training section of the movie before hand where we see the characters getting into shape and learning the ropes, all of which naturally foreshadows later events. Those later events of course involve typical cowboy things such as keeping the herd together, roping a cow, basic riding, helping a pregnant cow and dealing with two butch cowboys that represent adult bullies. To a degree the whole adventure is kinda taking these guys back to their youths with the things they have to deal with. The dangers they face, the problems, decisions and the cowboy bullies, I think its suppose to mirror growing up, especially when you look at the other characters alongside them. The movie is essentially an ensemble cast despite focusing on the main three leads. A typical bunch of city folk nerds and geeks that all have reasons for doing the drive which fall into place with the main three protagonists. You have a black father and son who obviously feel a bit out of place, two overweight Jewish ice cream makers, and Helen Slater as the sweetheart of the group. In all honesty none of these characters add too much to the proceedings, they are merely there to add to the awkwardness of the situation. Establishing how useless city folk are out in the sticks, until they learn and become real cowboys n girls (classic story arc kinda stuff). On the flip side of the coin you have the brilliant performance of Jack Palance as the leatherfaced, overly butch, Clint Eastwood-esque cowboy Curly. This guy is everything every man aspires to be (in the movie), he's tough, doesn't take any shit from anyone including the other cowboys, a ladies man and he looks cool. While the other characters are stereotypical city folk, this guy is the stereotypical cowboy, both elements playing off each other perfectly for some good laughs. The films relies on many stereotypes truth be told, but they are very user-friendly. Overall its a film of two halves really. On one hand you do have some really moving moments that will actually put a lump in your throat. Some of dialog between the characters at times can be emotional and deep, the relationship between Billy Crystal's character Mitch and the baby calf is another strong aspect with inevitable sequences of danger for the little thing. Daniel Stern's character Phil cracking is funny and heartbreaking at the same time, there is death to dealt with and of course the triumphant finale which can't fail to put a weepy smile on your face. On the other hand you have a lot of (now) cliched silly humour that is both childish and mature but most importantly, works. Most of this comes from banter between Mitch and Curly as they try to get along (Curly shits bigger than Mitch), Phil as the emotional loose cannon, Bruno Kirby's toughish womaniser of sorts and predictable visual gags. Its one of those movies that looking at it, reading about it, you'd brush it aside as just another cheap, lame, cookie-cutter comedy with no real love or attention to detail. But its completely the opposite, all the characters are well developed with solid story arcs, some comedy is brilliantly witty and dry thanks mainly to Crystal and Palance but there is also plenty of more regular laughs, the locations are stunning, great performances all round, and even the musical score is superb! My only negative point is a personal one, that being, I didn't like some of the casting choices. I think the film could have been even greater with slightly better casting, but that's just me. End of the day, the simple joke of seeing some city slicker suits trying to survive in the wild west turns out to be a classic comedy, it truly is one of the best feel good movies out there.
Phil Hubbs
Super Reviewer
½
An absolute classic that's too corny once in a while, but only because it's playing with conventions of the cowboy genre (baked beans, singalongs, cattle drives, Jack Palance, etc.). Billy Crystal is not one of my favourite actors, but we see a real growth in him as he pulls himself out of a midlife crisis along with his two lifelong best friends on a two-week trip during which they take a herd of cattle from New Mexico to Colorado. A real "Guy Movie," in a sense, and Jack Palance as Curly - same nickname as the violent rancher in John Steinbeck's Of Mice and Men, by the way - fully deserved his Best Supporting Actor Oscar, walking the line between playing it straight and completely camping it up. Great, fun film, highly recommend.
Daniel Perry
Super Reviewer
City Slickers Quotes
| | |
| --- | --- |
| Mitch Robbins: | (Talking about Curly) He's like a saddlebag with eyes. He's a lunatic. We are going into the woods being led by a lunatic...He's behind me, isn't he? |
| Mitch Robbins: | [talking about Curly] He's like a saddlebag with eyes. He's a lunatic. We are going into the woods being led by a lunatic...He's behind me, isn't he? |
| | |
| --- | --- |
| Cookie: | Lord, we give you Curly. Try not to piss him off. |
| | |
| --- | --- |
| Daniel Robbins: | If you're going to kill me, get on with it. If not...shut the hell up..I'm on vacation |
| Daniel Robbins: | If you're going to kill me, get on with it. If not...shut the hell up..I'm on vacation. |
| Mitch Robbins: | If you're going to kill me, get on with it. If not...shut the hell up..I'm on vacation. |
| | |
| --- | --- |
| Curly: | [to Mitch] I crap bigger than you. |