City Under Siege (Chun sing gai bei)
(2010)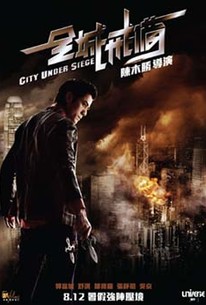 AUDIENCE SCORE
Critic Consensus: No consensus yet.
City Under Siege (Chun sing gai bei) Photos
Movie Info
When circus clown Sunny gets transformed into a super-powered mutant, he finds himself pitted against his fellow circus performers who were altered in the same freak accident, and who are now using their powers to wreck havoc around the city.
Critic Reviews for City Under Siege (Chun sing gai bei)
There are no critic reviews yet for City Under Siege (Chun sing gai bei). Keep checking Rotten Tomatoes for updates!
Audience Reviews for City Under Siege (Chun sing gai bei)
Not a bad Hong Kong sci-fi-action flick, but it's a bit complete mess. The lead character is insipid and uninteresting, the storyline is poorly developed, and the emotional subplots are laughable and unconvincing. Shu Qi and Zhang Jingchu aren't bad in their roles, and some of the kung-fu action is decent. There's also Aaron Kwok and his crazy overacting - and hey, if entertainment has a name, it's Aaron Kwok. Despite this major setback, Benny Chan (Invisible Target, New Police Story) who has a track record churning out entertaining action flicks over the years is still an adept hand in conducting massive mayhem be it on the highway or high-rise buildings with his frequent collaborator, action choreographer Nicky Li. Obviously when it comes to action sequences, no one do it better other than Chan and Li with the nimble combination of wirefu and explosions. The various fight sequences populated with plenty of CG enhanced daggers turned out to be less memorable and engaging this time though it will still please the action fans seeing Colin Chou sparring with Wu Jing and so on. I see Chou is yet again in a one-dimensional, poorly-written baddie role that he so commonly portrayed in the nineties.
Dean McKenna
Super Reviewer
Benny Chan's City Under Siege doesn't live up to its name, yet it does find a way to amuse.
The story is straightforward, while the storytelling is uneven. The 1 hour 50 minute run time contains the humor, the action, and even some drama; however, overall the film feels somewhat, for lack of a better word, cheesy. That isn't to say that this is an awful picture because it is entertaining in a silly way.
Given the talent of a few of the actors, the martial arts wire-fu action is lacking in quantity. As for the quality, it is pretty good despite some overload on the makeup and CG effects.
The cast is loaded and Aaron Kwok is the star of the show. His performance is the most notable piece in the entire film, aside from some of the action segments. Simply put, Shu Qi is nothing out of the ordinary. Jingchu Zhang, Wu Jing, and Collin Chou never reach their full potential and this is a disappointment.
City Under Siege does have its flaws and its satisfaction level is a toss up. Not a high recommendation, but one to take a chance on.
I didn't think it was possible, but it somehow was. Here is my official selection for this years worst movie. There were plenty of contenders, and its not even the end of the year, but here we are. This is without a doubt the most cliche ridden, most ridiculously stupid, overacted and just down right retarded movie ever. Circus folk getting superheroes isn't too new, but the way the trailer depicted it, it made it look like a dark, and intense action movie. Its the complete opposite. The overdone action scenes, that come complete with Michael Bay style explosions, lots of yelling and horrific dialogue seriously made me want to slam my head on the chair in front of me. HK's attempt to keep up with Hollywood by going for more CGI and explosions, is pathetic to say the least, and downright humiliating for the thousands of Hong Konger's who watch this. And the acting. Oh dear lord, I haven't seen this much overacting in my entire life. Every member of the cast goes overboard with the tears, and the crying, and the pouting, and yadda yadda yadda. It was just horrible to watch. What should have been a fast paced action movie, gets slowed down by unnecessary love stories between all the characters. Its just so melodramatic and unappealing. Some parts of the movie also seem more like forced comedy then action. The main character acts partly like a retard, and then at the end, is trained to be some sort of hero. Not only is this unbelievable, its downright impossible. Also impossible is the amount of coincidental meetings and appearances that are all necessary to keep the story moving forward. If the writers thought this was the way to keep the movie going, then either they've never seen a movie before, or they just have no common sense. For the sake of sanity, do yourself a favor. Don't watch this movie. This is an example of film-making at its absolute worst, and by watching it, you're only causing damage to your own brain, and adding more money to the pockets of the producers and studio heads.
Caius Chung
Super Reviewer
City Under Siege (Chun sing gai bei) Quotes
There are no approved quotes yet for this movie.