A Civil Action
(1998)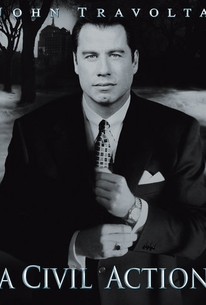 Movie Info
Based on a true story about a small-time, self-possessed personal-injury attorney whose greed entangles him in a case that threatens to destroy him. The Woburn Case- which appears straightforward- instead evolves into a labyrinthine lawsuit of epic proportions where truth, if it can be found at all, resides not in the courtroom, but buried deep in a network of deceit and corruptions.
Critic Reviews for A Civil Action
Audience Reviews for A Civil Action
"Schindler's List" scribe Steven Zaillian seems to craft meticulous pieces of work. It's hard to put into words but his films seem to have substance. He doesn't try to cut corners, which is precisely his downfall here. There's too much weight that, despite an excellent beggining, it gets bogged down and ultimately hoisted by it's own petard. A group of parents, whose children have died via pollution, enlist Jan Schlichtmann (John Travolta), a hot-shot ambulance chasing lawyer to fight their case against two huge corporations. But Schlichtmann soon realises that he may have met his match in opposing lawyer, Jerome Facher (Robert Duvall), with defeat possibly spelling financial ruin for him and his firm. This was only Zaillain's second film behind the camera and although there's much to admire, he still has much to learn. The problem he has, is with the pace. It was the same mistake he made later with his star studded "All the Kings Men". He has amassed an abundance of quality actors fleshed them out with substantial characterisations, yet they don't get a chance to shine. There is too much legal jargon going on for any of them to leap to the forefront. Duvall and Travolta duel with the viewers delight but the impressive supporting ensemble are wasted. Still, it's a cut above a John Grisham adaptation and if you don't mind a bit of legal mumbo jumbo and consider yourself a fan of slow talking legal drama's, then this will certainly appeal. Based on a true story and treads a similiar path that "Erin Brockovich" would tread a couple of years later. I'd have to say that the Steven Soderbergh/Julia Roberts film is the better of the two though.
Mark Walker
Super Reviewer
Jeremy Smith
Super Reviewer
½
A disappointingly pulse-less legal drama that features an incredibly dull lead performance from John Travolta, despite the rest of the cast being fairly on their game. The main problem that undermines the film is the fact that the startling transformation that Travolta's character undergoes does not for one minute feel genuine. Despite this film being based on a true story, it's both the script's and Travolta's fault for not spending more time on why this character changed so suddenly and gave up so much. Instead, it gives us a brief two minute scene to convince us, which it doesn't, and instead goes full-steam ahead with the case when it hasn't even achieved a firm grasp of the basic fundamentals that make these sort of films compelling or watchable. That said, it's not a bad movie, everything else is relatively well done, but the fact that I didn't believe for one second in Travolta's character is what brought it down to "not so great" territory for me.
Dan Schultz
Super Reviewer