CKY2K
(2002)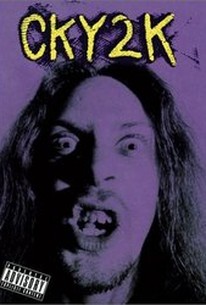 AUDIENCE SCORE
Critic Consensus: No consensus yet.
Movie Info
Outrageous skate video introduced the world to Bam Margera, the insane, parent hassling daredevil that would gain fame for risking life and limb on MTV's Jackass series. Includes a very chaotic trip to Iceland, some rather disgusting fecal footage, a some furniture surfing on the highway, and a demonstration of how to destroy a rental car and get off scott free.
Critic Reviews for CKY2K
There are no critic reviews yet for CKY2K. Keep checking Rotten Tomatoes for updates!
Audience Reviews for CKY2K
½
Some comedic bits here and there, but flat out stupid, CK2K is a definite misfire. I laughed a few times, but the comedy quickly became redundant and pointless. This short mostly uses gross-out humor to create something funny, and in many cases, it is-if you're in your teens. Now in my middle twenties, I find this stupid, and painful to watch. Jackass was better, not by much, but a bit. This is worthy viewing for fans of Bam Margera and Jackass. However the comedy falls apart quickly and there's really nothing that stands out here. The stunts and comedy get tiring and don't stand out. If you're looking for crazy stunts, watch the first Jackass film. At least that was funny, but this one isn't. CKY2K is boring and doesn't do anything to really thrill. This short doesn't stand out. Avoid it. If you're a fan of Margera's vids, watch it, but for the rest of us, there's nothing really funny here. Nothing but gross-out stuff on-screen. The type of stuff that's funny once. The stunts definitely are crazy, but like I said, there's nothing that stands out here, nothing of value, nothing truly entertaining. You'd be better off watching something else.
CKY2K Quotes
There are no approved quotes yet for this movie.