The Claim
(2000)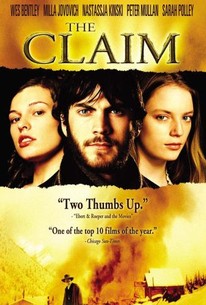 TOMATOMETER
AUDIENCE SCORE
Critic Consensus: Though it sometimes feels cold and detached, The Claim is evocative, beautifully shot, and full of understated performances.
Movie Info
An epic love story set against the wintry backdrop of the Sierra Nevada Mountains in the early days of California. Dillon, a pioneer, defies the harsh surroundings in search of gold. Having struck it rich, he establishes a thriving mining town called Kingdom Come. But blind ambition and greed catch up to him in the form three strangers that arrive in town. A surveyor hoping to extend the Central Pacific Railroad through Kingdom Come, threatens to destroy any future the town has. And, two women from Dillon's past are the key to a secret that could lead to his undoing.
Critic Reviews for The Claim
Audience Reviews for The Claim
What's more fun that a wagon of nitro blowing up a horse? If you like gold, snow and whores...you'll love the claim.
Curtis Lilly
Super Reviewer
Dillon: I don't drink anymore. I want you to know that. Between this movie and another overlooked film, Ravenous, I seem to enjoy movies set in the Sierra Nevadas during the 1860s. This movie takes place in said setting, and involves a town built on the finding of gold in the area, known as Kingdom Come. A town named Kingdom Come is very cool to me, I just feel I need to point that out. This town is run by Mr. Dillon, a man who has some bad history involving those he arrived in the area with. At the beginning of the film, a man (Wes Bentley) from the Railroad company arrives, looking at the town as a prospect for where the Railroad may come through. This will make or break the town. If it comes through, good for them. If it is set up somewhere nearby, a new town will be built and this one will decline. Also entering the town is a woman sick with Tuberculosis, and her daughter (Sarah Polley) with histories of their own involving this area. These secrets are not secret for long in the film, but its better to describe it this way. Also in town is a brothel, run by Mr. Dillon's mistress Lucia, played pretty well by Milla Jovovich, proving she doesn't always need to be in bad sci-fi action films. These five main characters all interact in various way, forming a number of love triangles, and other obstacles they must face. As interesting as the story is, this film is also very good visually and combined with a very good score, it makes this a very good film. Lucia: No guns, there are no guns allowed in my town.
Aaron Neuwirth
Super Reviewer
The Claim Quotes
There are no approved quotes yet for this movie.