Clara and Me (Clara et Moi)
(2004)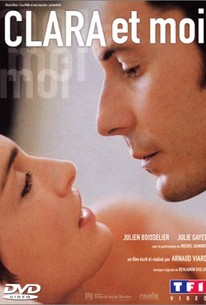 AUDIENCE SCORE
Critic Consensus: No consensus yet.
Clara and Me (Clara et Moi) Photos
Movie Info
Arnaud Viard's 2003 French-language feature Clara et Moi chronicles the eccentric romance between the 33-year-old struggling actor Antoine (Julien Boisselier of Le Convoyeur) and Clara (Julie Gayet Les Menteurs), a girl he happens to meet on the subway. Clara happens along at exactly the right time for Antoine, who - worn out from celibacy - has just avowed to his analyst that he'll find a wife within a set period. All is heaven at first, almost farcically so (and Viard, well aware of this, even defies the audience's formic expectations by playfully interjecting a musical number into the middle of the movie, in which the lovers "sing" their feelings to one another, ala Demy). But suddenly, a dark and unexpected twist emerges in the relationship, that strips bare Antoine's emotional immaturity and thus threatens to bring everything crashing down. Michel Aumont co-stars. ~ Nathan Southern, Rovi
Critic Reviews for Clara and Me (Clara et Moi)
Audience Reviews for Clara and Me (Clara et Moi)
In "Clara and Me," Antoine(Julien Boisselier) is an actor who goes to a therapist to talk about his worries in not yet having a family. But things are looking up for him when he meets Clara(Julie Gayet), a cute writer who works as a train hostess to pay the bills. Using a pick-up method that could only work on the Paris Metro, she goes out with him. As they date, things go along well and move quickly between the two. So quickly in fact, especially considering Antoine's initial prickliness, that it soon becomes clear that something or someone will throw a wrench into their happiness. When it does happen, it is something more akin to a lightning bolt out of the blue. On the one hand, very few movies are willing to go there. On the other, "Clara and Me" did not have to quite overdo it, when it could find easier ways to point out that no relationship or person is perfect, especially considering it already had a neat musical number in its favor.
You would think a movie about a man who meets the love of his life, only for her to discover she is HIV positive could not be dull. But you would be wrong.
Nicki Marie
Super Reviewer
Antoine has what every young single man could wish: a promising career, true and loyal friends, and an apartment of his own. However, he's a lonely man, until he meets Clara, a beautiful and exciting woman, and deeply falls in love with her. All his loneliness turns into joy... but then he finds out that Clara has got HIV. Drama with a twist... Lovely to watch!
Clara and Me (Clara et Moi) Quotes
There are no approved quotes yet for this movie.