Clash by Night
(1952)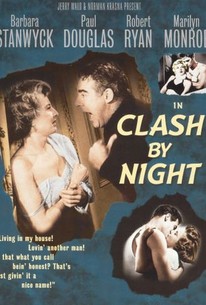 Movie Info
Adapted from a play by Clifford Odets, Clash by Night is a pretentious but well-staged "kitchen sink" drama involving love and lust in a tiny fishing village. Desperate for security and happiness, Barbara Stanwyck enters into a loveless marriage with cloddish but likeable fisherman Paul Douglas. Douglas' best pal is local movie projectionist Robert Ryan, who makes a beeline for Stanwyck. She entertains thoughts of leaving Douglas, but is dissuaded by her knowledge of his volatile temper. Given the film's title, a "clash by night" is inevitable, but the results aren't as horrible as Stanwyck imagined. Counterpointing the film's main triangle is a subplot involving the tempestuous romance between Keith Andes and Marilyn Monroe, the latter playing a naive but sexy young girl who yearns for the sort of adventure that the "worldly" Stanwyck has supposedly experienced in her life. Clash by Night was directed by the mercurial Fritz Lang, who enjoyed working with the ever-professional Stanwyck but had the devil's own time coaxing a believable performance out of Monroe (though he certainly succeeded).
News & Interviews for Clash by Night
Critic Reviews for Clash by Night
Audience Reviews for Clash by Night
Come on, what hot blooded, wire bra-ed bombshell wouldn't choose the dashing Robert Ryan over the lumpy Paul Douglas? Except, of course, when Douglas is a kind-hearted, lovable teddy bear and Ryan is a self absorbed, misogynist prick. Barbara Stanwyck was a master at playing flawed characters and her Mae Doyle is about as flawed as they come. Bad girl, good film, great actress.
Randy Tippy
Super Reviewer
fritz lang's "clash by night" is a psychological drama about the paradoxical mentality of female perplexity about life and its harboring cease. babara stanwyck would be the individualistic rebel lady who drifts everywhere to seek her dreams even eventually she winds up with "big dreams, small results" stanwyck plays mae doyle, a woman who wanders from home for 10 years, a prodigal daughter retreats back to her homeland with one bitter remark "home is the place to go when you run out of places", a woman who wants her man to "fight off the blizzards the floods" just to make her feel "confident"....a egoist who abides nothing but motivated by her anguishes to live and explore the world with novelty. a woman who claims that she would never be satisfied enough to give any man happiness since her character is webbed with too much ambivalent affirmations to be genuinely tamed by any man, and mae shrewdly sneers at the world with her sass and sharply sardonic wits until she meets her fellow rebel earl (robert ryan) who is a cynical grudgy man embittered with spousal tumults, uttering quibs like "wouldn't you wanna cut a beautiful dame up?" "i like the woman who stays on ceiling when i throw all of them above"...a volcanic man with enough individuality to rival mae....and this resistant ambiguity also arouses mae's animosity.....thus she chooses to marry her another suitor jerry with the clumsy looks of ape but has a generous heart of gold despite his simple-mindedness cannot provide the thrilling kicks of life mae's always craving for. it might appear somehow melodramatic but the script offers plenty of wisecracking wisdom between the lines to depict each character with enough distinctive contour of humanity. and the episode of marilyn monroe who plays the girlfriend of mae's brother is also quite pleasantly juxtaposed with her talks of feminism and refusal of being trapped as cannary in marriage.... inevitably mae's being lured away by charismatic earl who whispers love with more refined skills than stupified jerry....ultimately mae succumbs to her sense of feminine duty instead of her intense drive of egoism....accurately speaking, she lifts up the veil of her selfism to ripe into mature womanhood since the world is not always "her disappointment, her unhappiness"... only brilliantly talented stanwyck could incarnate into such fickle role with multiple outbursts of complexity conviningly....only stanwyck has enough charisma to redeem this character with comprehensible pathos...a well-performed stagy flick upon the theme of woman and her choices over the crossroad of life.
Veronique Kwak
Super Reviewer
½
The potential ultimate noir coupling of Stanwyck and Ryan results in this solid but not quite socko near-noir. DVD features great Bogdanovich talk thru - for which, to judge by his level of enthusiasm and preparation, Peter was compensated a sandwich, a soda and chips.
Bob Stinson
Super Reviewer
Clash by Night Quotes
There are no approved quotes yet for this movie.