Clash of the Titans
(1981)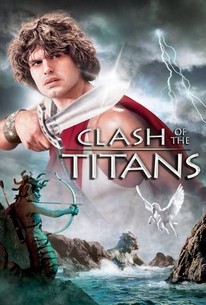 TOMATOMETER
AUDIENCE SCORE
Critic Consensus: A goofy, old-school sword-and-sandal epic, Clash of the Titans mines Greek mythology for its story and fleshes it out with Ray Harryhausen's charmingly archaic stop-motion animation techniques.
Clash of the Titans Photos
Movie Info
The eschewing of modern optical effects techniques in favor of the classic stop-motion animation work of special effects legend Ray Harryhausen was a delightful highlight of this action adventure that attempted to give Greek mythology the Star Wars (1977) treatment. Harry Hamlin stars as Perseus, a mortal who, due to the interference of the mighty god Zeus (Laurence Olivier), finds himself in the city of Joppa, far away from his island home. There, he falls in love with Andromeda (Judi Bowker), an imprisoned princess. To free her, win her hand, and thus half of the kingdom, Perseus solves a riddle, but Joppa's enraged ruler orders Andromeda fed to the Kraken, a towering sea monster that's the last of the powerful Titans. In his quest to save Andromeda, Perseus must endure a series of trials with the help of the winged horse Pegasus and a friendly playwright, Ammon (Burgess Meredith). His ultimate goal is to secure the head of the grotesque Gorgon named Medusa and use it to turn the Kraken into stone, but dangers await, including the hideously deformed Calibos (Neil McCarthy). ~ Karl Williams, Rovi
News & Interviews for Clash of the Titans
Critic Reviews for Clash of the Titans
Audience Reviews for Clash of the Titans
Harryhausen definitely went all out for his final film he would work on, and considering how I love Harryhausen and Greek and Roman Mythology, it worked like bread and butter. The stop motion is top notch as always for Harryhausen, and the acting is also very well done especially Burgess Meredith as the playwright Ammon, then newcomer Harry Hamlin as the protagonist Perseus, and Laurence Olivier as Zeus. The effects look good if you invest yourself in the time this film was made, and though it looks really cheesy now and somewhat bad, for the time it looks incredible, such as the blue screen effect where Perseus is riding a Stop Motion Pegasus in the sky. The plot is also very well told and the characters do a great job at telling this story. Though the only thing I find distracting in this movie is the nudity and gore in this film, because I know the R rating existed at the time this was created, but it was pretty shocking to see a womans breasts once and a womans bare behind, now I know at the time where this movie took place that was common, but when you look at it now, a film couldn't be made like this nowadays and not be R. But overall Harryhausen does fantastic at animating this stop motion and the story is well crafted just like the monsters in it.
Michael Edwards
Super Reviewer
½
Engaging action, fantasy, Clash of the Titans is a highly entertaining film, but it does have a significant flaw, and that is that it shows its age. On the other hand, the cast do a good job in their performances. Despite the fact that it shows its age, it's still an entertaining movie that should appeal to genre fans. The effects are quite good for its time, however like I said, this is a dated affair. Overall the film is decent at best, and it had the potential of being really good, unfortunately it never realizes, and it has too many shortcomings that make this a somewhat entertaining, yet very flawed movie. I just didn't think it was a great movie, as it is, it a decent picture that tries to be too ambitious, and in turn, it loses track of telling a richly detailed and wonderful story. If you can manage 80's films that shows it age, then by all means, give Clash of the Titans a viewing. The film has its moments, but is also disappointing because it could have been much better. At times the performances are overbearing, and it becomes a bit ridiculous. At least a select few actors here can act, like Dame Maggie Smith, which I quite enjoyed here. I8f you're expecting a grand, epic movie, look elsewhere. Yes, it's a big story, but it feels hollow and empty at times, and it's what brings the film down as well. There are far better fantasy films out there than this one, and it's a shame that the film just fails to really enthrall the viewer. Decent, but never good, Clash of the Titans is one of those movies that should have been very good, and it makes you wonder, if the project had a different director, would this have turned out differently?
½
"Clash of the Titans (1981)," although dated, has a very good mythical story about rescuing the princess whom he is in love with. Along his journey, he encounters a two headed dog, a snake woman (medusa), giant scorpions, and the Kraken, something that you will be waiting to see throughout the entire film. What I love so much about this film is the fact that instead of giving small action scenes here and there, just to be let down by the short battle at the end, is the fact that they wait until the last three quarters of the movie to show any action sequences, so my needs are met by the end. Overall, I still am not a huge fan of fictional mythical stories, but this one has really caught my attention and deserves several watches. The action is cool, the characters are likeable, and the shots are key, for keeping the scale of the actual monsters a secret. I had a lot of fun with "Clash of the Titans (1981)" and I would definitely recommend it!
Clash of the Titans Quotes
| | |
| --- | --- |
| Zeus: | Release the kraken! |
| | |
| --- | --- |
| Zeus: | (abolut Kalibos) He will become abhorrent. He shall be shunned and forced to live as an outcast in the swamps and marshes! He will become a mortal mockery. A fitting mark for his vile cruelty... That is my judgement. |
| Zeus: | [abolut Kalibos] He will become abhorrent. He shall be shunned and forced to live as an outcast in the swamps and marshes! He will become a mortal mockery. A fitting mark for his vile cruelty... That is my judgement. |
| | |
| --- | --- |
| Perseus: | How may a mortal man face and defeat the Kraken? |