Class of Nuke 'Em High
(1986)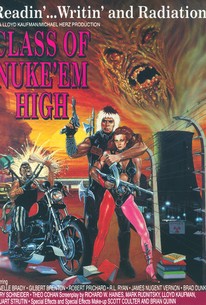 Class of Nuke 'Em High Photos
Movie Info
Trash-movie moguls Lloyd Kauffman and Michael Herz -- the creative team (so to speak) behind distributor Troma Films and makers of The Toxic Avenger -- foist yet another epic of bad taste upon the viewing public with this melding of teenage sex-comedy and slime-oozing monster mayhem, described by the filmmakers as "like The Breakfast Club, only not as stupid, and really, really drunk." The story involves the student body of Tromaville High school, who resemble the usual group of slackers, stoners and surf punks who drift through the halls of academe... except this is Tromaville, and the dilapidated nuclear plant is busily churning out glowing green effluvia next door. Before long, the kids are glowing in the dark too, riding hell-bent through the hallowed halls on their choppers, shrieking obscene pseudo-songs and giving birth to slimy mutant offspring... pretty much business as usual. The only way to put this film into any kind of perspective would be to say it's never dull; fans of Troma product (the cinematic equivalent of head cheese) should be delighted. Followed by two sequels, subtitled respectively Subhumanoid Meltdown and The Good, the Bad and the Subhumanoid. ~ Cavett Binion, Rovi
Critic Reviews for Class of Nuke 'Em High
All Critics (5) | Fresh (1) | Rotten (4) | DVD (3)
By Troma standards, this qualifies as a "classic." It isn't by anyone else's, though there are some good moments.
May 27, 2003 | Rating: 3/5
More mildly amusing trash from Troma.
October 17, 2002 | Rating: 2/5
"Better" than much of Troma's output -- but it's all relative.
July 27, 2002 | Rating: 2.5/5
Audience Reviews for Class of Nuke 'Em High
Troma Films deliver another B movie trash fest with Class of Nuke 'Em High. This is one crazy comedy horror film that is very over the top. If you're familiar with Troma's catalogue, you'll know what I'm talking about. This film is not without its flaws, but is definitely lots of fun from start to finish. If you love low-budget schlock, then this is the perfect film for you. I enjoyed every minute of it. The film is part, horror comedy, and part monster flick and part exploitation film. This film definitely is a must see for horror fans who want something ridiculous to watch. Although not as memorable The Toxic Avenger, Class of Nuke 'Em High definitely is fun from start to finish. Don't expect anything consistent here, you won't find it. This is a good little film from the folks at Troma films who really know how to deliver effective so bad its good films that are simply mindless fun. I very much enjoyed the film. There's plenty to enjoy on-screen, if you're in the right state of mind for these types of films. This is a good film that has enough gore, boobs and off the wall ridiculousness to please fans of the genre. One thing that Troma films do very well is deliver over the top comedy Exploitation horror, and with Class of Nuke 'Em High they do just that. There's plenty to enjoy with this film and it has something for every horror fan. This is yet another low-budget film, and though flawed, this is nonetheless an enjoyable film that is sure to provide you with a mindless hour and a half of entertainment.
I really liked this movie, it's an awesome nuclear themed teenage comedy horror movie. It's really cool, and I highly recommend it if you like 80s teen movies.
Reading the Plot I already figured out what this movie was about, but as curious I am I wanted to know how would it end. I didnt manage to watch it to end I was yawning to hard.
Class of Nuke 'Em High Quotes
| | |
| --- | --- |
| Gonzo: | thats what you get for falling in love with a yuppie! |
| Gonzo: | That's what you get for falling in love with a yuppie! |