The Big Risk (Classe tous risques)
(1960)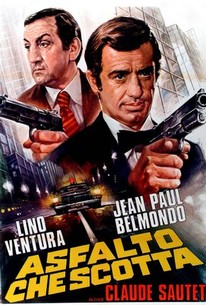 The Big Risk (Classe tous risques) Photos
Movie Info
A criminal on the run finds going home after a decade is harder than he expects in this drama from French filmmaker Claude Sautet. Gangster Abel Davos (Lino Ventura) is wanted for murder in France, and has been living underground in Italy for ten years. Since then, Abel has married Therese (Simone France) and fathered two sons, and he's decided it's time to come home. Abel has planed an elaborate scheme in which he'll steal a fortune to finance his journey and head home with Therese and the boys, but little goes as planned, and he arrives in Paris without his wife and running from the law with two kids in tow. An underworld boss who owes Abel some favors helps him put together a plan to travel across France in an ambulance to avoid suspicion, and recruits a headstrong young gangster, Eric (Jean-Paul Belmondo), to serve as Abel's driver and right-hand-man. En route, Abel tries to settle some old score with criminal associates who betrayed him. Based on a novel by Jose Giovanni, Classe Tous Risques was the first feature film from Sautet, who previously had worked as an assistant director for some of France's most prestigious filmmakers. ~ Mark Deming, Rovi
Critic Reviews for The Big Risk (Classe tous risques)
Audience Reviews for The Big Risk (Classe tous risques)
½
another terrific french gangster film lost in the wake of the new wave, starring tough guy lino ventura as a career criminal who tries to return to france with his wife and children after 10 years away in italy. when things don't go according to plan, his old friends don't want to upset their quiet respectable lives to help out their former pal and so they send a young thief, jean paul belmondo, to his rescue. belmondo was on the brink of stardom here as this was made immediately after 'breathless,' and the film was highly influential on the work of jean-pierre melville
Stella Dallas
Super Reviewer
½
the film begins well, then heads towards one of the most heart wrenching and beautiful second acts ive ever seen on film, and the third act even continues in this leading me to want to give the film at least 4 1/2 stars until an incredibly anti-climatic and disappointing closeout of an otherwise brilliant film. although the film drops an entire star for the horrible ending, i still loved this movie. as a father it was hard to watch but reminded me of how much i love my kids. a gritty crime story with solid performances from belmondo and ventura, highly recommended for anyone into the crime genre.
[font=Century Gothic]"Classe Tous Risques" starts out with a father dropping his wife and kids off at the Milan train station while on the way to work. The father is Abel Davos(Lino Ventura) who was sentenced to death in absentia in France. He and his partner pull off a daring daytime heist. Realizing the police are closing in on him in Italy, Davos makes it back to France and is cornered in Nice. He calls one of his old gang in Paris for help and requests an ambulance. One of his old gang wants to go but is out on bail. The other two are now semi-legit and do not want to risk it. They do send somebody they are unfamiliar with, Eric Stark(Jean-Paul Belmondo), down to Nice with the ambulance.[/font] [font=Century Gothic][/font] [font=Century Gothic]"Classe Tous Risques" is a taut crime drama that is about honor and loyalty amongst criminals. In general, it concerns itself with acts of random kindness, sometimes from and towards the least likeliest of people. There is great location shooting and camerawork.[/font]
The Big Risk (Classe tous risques) Quotes
There are no approved quotes yet for this movie.