Clay Pigeons
(1998)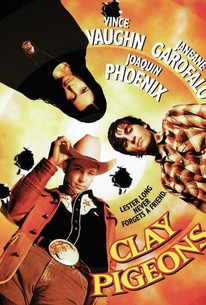 Movie Info
David Dobkin made his feature directorial debut with this comedy thriller about an ordinary guy mistakenly viewed as a serial killer by the FBI. In small-town Mercer, Montana (population 1,536), easy-going gas station attendant Clay Bidwell (Joaquin Phoenix) endures a comical nightmare that gets underway when Clay's best buddy Earl (Gregory Sporleder) learns Clay slept with Earl's wife Amanda (Georgina Cates). Earl commits suicide as a horrified Clay watches. Amanda would rather see Clay in prison than have the local gossipers chatting about their affair, so to cover-up, Clay puts Earl's body into a faked auto accident. Clay then finds comfort with waitress Gloria (Nikki Arlyn), but Amanda kills Gloria, leaving Clay to dispose of another body. At the local bar, Clay is befriended by trucker Lester Long (Vince Vaughn), and they go fishing, hooking a corpse. Lester asks Clay to tell the cops he found it alone. The next victim is Amanda, stabbed 40 times. Clay tries to explain what's going on to the law -- Sheriff Mooney (Scott Wilson) and FBI agents Dale Shelby (Janeane Garofalo) and Reynard (Phil Morris) -- but he becomes the main suspect and is arrested, while serial killer Lester is on the loose. Clay manages an escape from jail and goes in search of Lester. David Dobkin, a Ridley Scott protégé, is an award-winning director of music videos (including the Coolio clips that won MTV's "Best Dance Video of 1996") and commercials, many helmed under the auspices of Ridley and Tony Scott's production companies. Shown at the 1998 Toronto Film Festival.
Critic Reviews for Clay Pigeons
Audience Reviews for Clay Pigeons
"What an interesting film. I didn't really know much about it before seeing it. But with Vince Vaughn and Joaquin Phoenix being in the film, you really can't pass that up. So glad I made the choice to watch it. I really liked it. The acting was good on most parts. That being just from the two leads and a couple side characters. Vince stole the show though. He was evil, but likable. It made it a little difficult to be disgusted with him since he was such a charmer. I am not sure what that says about me, but anyways. I really liked his performance in this. The movie moves along quickly which leaves you little room to be bored. If you like morbid comedie's and a good old serial killer flick, this one will suit you just fine."
♥˩ƳИИ ƜѲѲƉƧ♥
Super Reviewer
½
Clay Pigeons is a very odd but good indie thriller. It's David Dobkins; who would later go on to direct the more commercially successful Wedding Crashers, debut film. The plot is entertaining but what really makes the movie is Joaquin Phoenix. Vince Vaughn seems like a weird choice for Lester but does do a decent job. David Dobkin showed some promise with Clay Pigeons and Wedding Crashers, but I think he can and will do better.
Melvin White
Super Reviewer
A very unlikely cast of people in an unlikely production from Scott Free makes for good bedfellows. First and foremost, this is a discussion film. You are NOT given all of the answers at the end of the movie, only the outcome. After you watch it, you'll want to discuss with someone's whose seen it to make sure that either you got everything right, you didn't understand it at all, or use it an excuse to argue over the plot. If that's your cup of tea, I highly recommend this movie. It's a well-executed thriller comedy that's just a bit rough around the edges. Joaquin shines here. Vince Vaugn, is, well, Vince Vaugn...not perfect, but too damned likeable to dismiss altogether. The supporting cast is also put to very good use. The plot plays out mysteriously and well, even if there are some holes here and there. My complaints lie only in the cinematography and some of the character development (one can look at this film as a forerunner to the perfection that is 'No Country For Old Men'). On a real personal note, I rather liked the plug for 'Alien'. :)
Tim Salmons
Super Reviewer
Clay Pigeons Quotes
There are no approved quotes yet for this movie.