Clean, Shaven
(1995)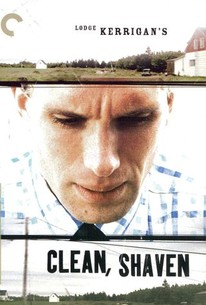 Movie Info
Peter Greene stars in this downbeat character study as a schizophrenic man trying to function in a world that seems thoroughly alien to him, while also searching for his lost daughter. Meanwhile, a detective is tracing his steps in a murder investigation.
Critic Reviews for Clean, Shaven
Audience Reviews for Clean, Shaven
Hallucinating the whole time, a man recently released from a mental institution tracks down his long-lost daughter, while being pursued by a detective who believes he's responsible for the murder of a young girl. Subjective and disorienting, CLEAN, SHAVEN is one of the most harrowing portraits of paranoid schizophrenia ever filmed; ranks just below PSYCHO and REPULSION in the pantheon of horrifying studies of mental illness.
½
I didn't like this movie but I think I just wasn't in the mood, it was really disturbing and graphic at times.
½
A dirty, disturbing, and disgusting film chronicling the life of a man (Peter Greene) with schizophrenia released from a mental institution, and his efforts to reconnect with his mother and to find his daughter, while a detective (Robert Albert) is convinced he is responsible for a murder of a young girl. While, as said above, this is a filthy movie, it will definitely stick with you. The disease of schizophrenia is detailed in rich detail, the little voices popping up here and there, director Lodge Kerrigan really makes you feel like you are experiencing what this guy has to live with, and it feels terrible. Although I do think it ran a little short, and the detective wasn't as colored as he should've been, this is an overall outstanding movie with a phenomenal performance from Peter Greene.
Dan Schultz
Super Reviewer
Clean, Shaven Quotes
There are no approved quotes yet for this movie.