Cleaner
(2008)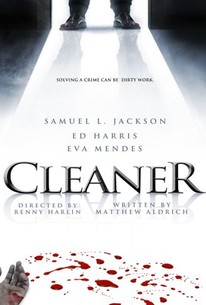 Movie Info
An extremely hygienic man uses his urge in his professional life as a crime scene cleaner. When he becomes involved in a job he later finds out was a covered up murder, he gets tied in to a web of deception, that un-earths his own family's long buried pain and secrets.
Critic Reviews for Cleaner
Audience Reviews for Cleaner
Mediocre, mildly entertaining thriller that does not make the most of its somewhat interesting premise. You can smell the few surprises miles away and the showdown is not particularly exciting, even if the editing tries to make you think so. Unbelievable what huge and entertaining films director Harlin created in the 90s. Amazing that he got such a good cast for this rather tame product.
½
Great cast. A crime scene cleaner gets intertwined in a cover up.
Candy Rose
Super Reviewer
Cast: Samuel L. Jackson, Ed Harris, Eva Mendes, Luis Guzmán, Keke Palmer, Christa Campbell, Ritchie Montgomery, Robert Forster, Peter Franzen Director: Renny Harlin Summary: After years as a detective, Tom Carver (Samuel L. Jackson) runs a business specializing in cleaning up crime scenes. But when he realizes his latest gig at a ritzy suburban house might have been a cover-up for a homicide, he must clean up the injustice. Our hygienic hero gets far more than he bargained for in director Renny Harlin's twisty crime thriller, co-starring Ed Harris as Carver's old partner and Eva Mendes as a grieving wife. My Thoughts: "Original, interesting, and a suspenseful murder mystery. Most films with Samuel L. Jackson you see him kicking ass and being a loud personality. In this film he is a calm single father. Quite a switch from his usual films. I really enjoyed him in the movie. I also enjoyed the story, it being something I haven't seen before. Always great when there's a new concept that works. The twist is also good in this film. I really didn't see it going the way it did. Ed Harris and Samuel L. Jackson are great together in this movie, and I would really like to see them teamed up in another film. Keke Palmer also does a great job in this movie and her character really tugs at your heart strings. It was a great character driven mystery. Worth taking a look at."
♥˩ƳИИ ƜѲѲƉƧ♥
Super Reviewer
Cleaner Quotes
There are no approved quotes yet for this movie.