Clear History
(2013)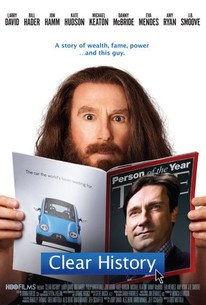 TOMATOMETER
AUDIENCE SCORE
Critic Consensus: Its semi-improvised structure finds Larry David squarely in his wheelhouse, but with few laughs and a muddled message, it doesn't live up to his usual standards.
Movie Info
A marketing executive at an electric-car start-up quits after an argument with his boss, but is crushed when the company hits the big time, so he tries to reinvent his life under a different name in the peace and quiet of Martha's Vineyard. ~ Joe Friedrich, Rovi
Critic Reviews for Clear History
Audience Reviews for Clear History
It's very difficult for me to understand the motivation for Larry David to write and star in this HBO original film. More than anything, this film probably exists because David wanted to do something bigger and more lascivious than his television series, but if you've seen the show than this is more of the same. The premise sounds appealing, but the actual film is just weird. Its plot roves where it pleases with very little care, and there's really no point in the end. The show "Curb Your Enthusiasm" always wrapped up all its incidentals and had a point at the end of every episode. A lot of the film is improvised, like in the show, but without the show's cast of familiar characters this film is just random people being angered by Rolly's (David) antics, and that's not satisfying. There may be forgiveness from fans of the show, who want to see more of the same, but for outsiders this is a strange and unpleasant mess.
Spencer S.
Super Reviewer
½
After Larry David said Curb Your Enthusiasm would be on hiatus so he could gather more material for his show, most people who are fans, like me, couldn't wait for this small reprieve to keep us on our toes and at least thinking of the comedy style he brings while we wait. This movie is an extended, if not a tad outrageous, version of that very show. Same deadpan humor. Same cringe-worthy and blunt situations. Unfortunately, what makes the show great is it stays within real world environments. The movie tends to break that with the invention of a new electric car and a pretty silly plot to exact revenge. It has all the twists and turns of the show, I just didn't buy it because none of it was based off anything real. That knocks it down two full stars for me. The jokes and acting, though, really keep this watchable for the fan of Larry David. It's a nice twist to see actors who are usually in roles more serious (especially Jon Hamm) break out of their shell and throw some dark comedy into it. The car scene between Kate Hudson and Larry David really wowed me for how violent Hudson gets. Great contrast to her usual stuff. Michael Keaton was pretty absurd, but he and his crony Bill Hader were supposed to be the absurdity of the movie. You could easily see the best conversations (whether improvised or not) were with JB Smoove and David. Unfortunately, Danny McBride wasn't himself we've come to expect at all. It will make you uneasy. It will make you scrunch up your face, but with a smile on it. I'd rather see more of the TV show.
Lane Zieben
Super Reviewer
This comedy was written by Larry David, Alec Berg, David Mandel and Jeff Schaffer, and directed by Greg Mottola. If you are fan of Larry David's comedy style you will enjoy the story of Nathan Flomm, who, in order to avoid the humiliation of having missed out on a hugely successful business, assumes a new identity on Martha's Vineyard. Of course, when an opportunity shows up, he plots revenge - his former business partner moves to the same town, and he starts moving and shanking... I am not sure that people who are not fans will enjoy this as much, though. Don't get me wrong, starring Larry David, Bill Hader, Philip Baker Hall, Jon Hamm, Kate Hudson, Michael Keaton, Danny McBride, Eva Mendes, Amy Ryan and J. B. Smoove, you cannot go wrong - but even they could not make the B grade screenplay working all the time. Michael Keaton, Danny McBride and Eva Mendes were outstanding and I really wished that the screenplay was up to their standard. It was funny, but only occasionally, and there was nothing I could mark as memorable! With its seaside setting and very light entertainment it is perfect for a relaxed evening, because it is still pleasant, late-summer themed mix, enjoyed to the sounds of Chicago... of, I almost forgot, and I really loved the debate about whether there is a racial preference between black and white dwarves. I wish that there was less restrain, but this was made for HBO, and obviously it was impossible to let Larry David loose (with a reason)!
Clear History Quotes
There are no approved quotes yet for this movie.