Cleopatra Jones
(1973)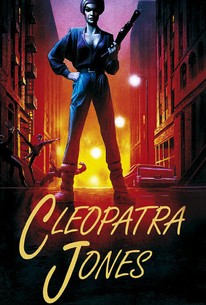 Movie Info
Tamara Dobson stars as Cleopatra Jones in Jack Starrett's blaxploitation programmer that, in its own way, deals effectively with the ravages of drugs in inner-city black communities. Cleopatra Jones is a jive female James Bond, a special drug agent for the United States government who wears sleek and hip clothes, drives a fancy car with a submachine-gun compartment in the front door, and travels all over the world to stomp out drugs at their source. Cleopatra has a loving relationship with Ruben (Bernie Casey), the well-meaning head of a drug rehabilitation clinic in Los Angeles. When Cleopatra travels to Turkey to oversee the destruction of poppy fields owned by Mommy (Shelley Winters) -- a lesbian drug dealer -- Mommy becomes upset. She exacts her revenge on Cleopatra by having the police close down Ruben's drug clinic. Nevertheless, Cleopatra continues to wreak havoc upon Mommy's drug business, and Mommy continues to try to do Cleopatra in, until finally there is a major confrontation between Cleopatra and Mommy and her minions.
Critic Reviews for Cleopatra Jones
Audience Reviews for Cleopatra Jones
With a leading actress who lacks any charisma and a harmless, forgettable plot whose too many characters make us only confused about the relationship between them or who is who, this is a passable blaxploitation movie to be seen when you have nothing better to do.
Carlos Magalhães
Super Reviewer
Typical blaxplotation flick of the '70's. Dobson is striking in the lead. Shelley Winters has her acting dial turned up to maximum consuming scenery at every turn.
This one's surprisingly solid as both campy fun and a decent actioner in general. Of course, I'm also meaning decent on the B-Movie scale, but still, some fine work. Tamara Dobson is fine in the lead, and she comes off as more Afrocentric than her contemporary Pam Grier, if you're into subtext sorts of things. The film addresses urban poverty, crime, drugs, THE MAN, and has some hilarious political incorrect giggle moments (well, especially for me given my age, race, and the fact that I've never watched this film without alcohol in my system. So yeah, it might be cheap, and a bit of a mess, but it's blaxploitation, so it's not boring, and quite a lot of fun. This is basically one of the required watches of that wonderful subgenre, so definitely give it a watch if this is your sort of thing.
Chris Weber
Super Reviewer
Cleopatra Jones Quotes
There are no approved quotes yet for this movie.