Clerks
(1994)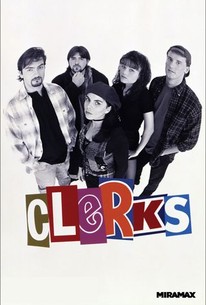 TOMATOMETER
AUDIENCE SCORE
Critic Consensus: With its quirky characters and clever, quotable dialogue, Clerks is the ultimate clarion call for slackers everywhere to unite and, uh, do something we guess?
Movie Info
When Dante Hicks (Brian O'Halloran) is reluctantly put in charge of the Quick Stop market on his day off, he tries, though half-heartedly, to perform his minimum-wage duties as efficiently as possible. This gets tough amidst the on-going fight with his girlfriend, Veronica (Marilyn Ghigliotti), and his attempt to get back together with his ex-girlfriend, Caitlyn Bree (Lisa Spoonhauer). Meanwhile, his friend and alter ego Randall (Jeff Anderson) is working behind the counter of the adjacent video store -- at least when he feels like it. Randall's unabashed disdain of his place of employment, a long with his self-admitted hatred towards its customers is a sharp contrast to Dante's feeble attempts at the niceties of customer service. Much of the film consists of Randall and Dante's criticism of their customers, their lives, and the world in general. Clerks, filmed in black-and-white on a budget of only $27,000, began the career of writer director Kevin Smith, who would go on to make Mallrats (1995), Chasing Amy (1997), Dogma (1999), and Jay and Silent Bob Strike Back (2001). ~ Hal Erickson, Rovi
Critic Reviews for Clerks
Audience Reviews for Clerks
½
Kevin Smith deserved all the recognition that he got after presenting us with this hilarious slice-of-life cult movie, which was made with a very limited budget and yet is more authentic, refreshing and amusing than many comedies out there.
Carlos Magalhães
Super Reviewer
½
[img]http://images.rottentomatoes.com/images/user/icons/icon14.gif[/img]
Directors Cat
Super Reviewer
½
Shot in black and white on a meager budget of $27,000, this is one of the best 'a day in the life of' or 'slice of life' films ever, and a quintessential part of 90s independent cinema, and the start of the remarkable career of writer/director/actor Kevin Smith. The simple plot follows two slackers in their early 20s who spend the day at their minimum wage jobs (a convenience store and an adjacent video store) dealing with a cadre of colorful customers and loiterers, chatting about pop culture, and riffing on their jobs, people (especially customers they dislike), and their own lackluster lives. Dante is reluctantly their on his day off, and half-hardheartedly tries to make the best of it. Randal is his best friend, and openly mocks what he does and the people he has to deal with. They are a good match together, and it is a joy watching them hang out and talk. As if the oddball customers and loiterers (especially drug dealers Jay and Silent Bob) weren't enough of an issue, Dante has to also deal with an ongoing fight with his girlfriend Veronica, and the temptation to get back together with his ex-flame Caitlin. Seeing this when I was around the age of the characters, and working at a place where it was easy to bitch about it and the customers, I was easily able to identify with this film, and take much influence from it. Now that I'm older, and somewhat wiser and more mature, my feelings towards this film have mellowed some, but not completely. Most of this holds up pretty well, though some of it is a tad dated. The optimist in me would say that this adds to the charm, especially since I'm a fan of Gen X, slacker-related stuff, and dig on early 90s style and aesthetics. As a first feature, and given the limitations (mostly budgetary), I'd say Smith was pretty successful at making the most of what he had, despite the fact that some of the film is pretty rough around the edges, and a tad aimless and meandering once in a while. I think the writing is still quite sharp, funny, realistic, and insightful. For a couple of foul-mouthed bums, Dante and Randal have some really good insights about people and life. They're not alone though, as the other characters have some choice observations as well. Yeah, the film is pretty raw and raunchy at times, but is actually rather tame compared to some of the stuff that has come out since 1994. Plus, even if it is vulgar, it's not just for the sake of it, and there's plenty of heart, depth, and, as I said, poignant observations. Even though I will grow older and likely lose touch with this film more and more as time goes on, it will always hold a special place in my heart. It's a wonderfully fun hangout movie, and a prime example of taking a little, and turning it into a lot.
Chris Weber
Super Reviewer
Clerks Quotes
| | |
| --- | --- |
| Dante Hicks: | Man goes into cage. Cage goes into salsa. Shark's in the salsa. Our shark. |
| | |
| --- | --- |
| Dante Hicks: | A bunch of savages in this town. |
| | |
| --- | --- |
| Silent Bob: | There's a million fine looking girls in the world. But they don't all bring you lasagna to work. Most of them just cheat on you. |
| | |
| --- | --- |
| Angry Hockey-Playing Custom: | What do you mean there's no ice? You mean I gotta drink this coffee hot? |