Cliente (Client) (A French Gigolo)
(2008)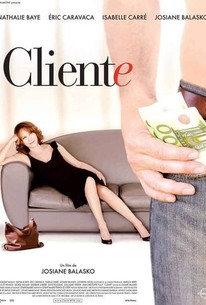 AUDIENCE SCORE
Critic Consensus: No consensus yet.
Cliente (Client) (A French Gigolo) Photos
Movie Info
A fiftysomething divorcée (Nathalie Baye) becomes enamored of the young male escort (Eric Caravaca) she employs. The man, who is married, faces a difficult decision about his future and that of his wife, whose budding business his job is financing. Director Josiane Balasko adapted her own novel and costars as Baye's sister.
Critic Reviews for Cliente (Client) (A French Gigolo)
All Critics (2) | Fresh (0) | Rotten (2)
Me sygkratimenes ysteries kai kresento demena me empeiria kai sobarotita, i Balasko pantreyei tin galliki mpalafara tis me ena periergo misopsimeno kai misomasimeno koinoniko endiaferon poy se paei me skampanebasmata toy rythmoy kai ton synaisthimaton, me
Audience Reviews for Cliente (Client) (A French Gigolo)
½
In "Cliente," Judith(Nathalie Baye), 51, divorced, runs a successful home shopping business with her sister Irene(Josiane Balasko, who also wrote and directed) who is holding out for love with a man with an advanced degree. Judith is so busy that she has no time for a relationship herself, and instead has sex with younger gigolos. One of them, Patrick, ne Marco(Eric Caravaca), she takes a special liking to. Judith is not Marco's only client, as he has a few other women he services and receives gifts from which he turns over to his family. They have no idea where he really gets them nor does his wife of four years, Fanny(Isabelle Carre), whose hair salon he personally keeps afloat through his moonlighting. "Cliente" is about the crazy things that love and money drive people to do but as Tina Turner once sang, what's love got to do with it? The movie gets off to a promising start but goes nowhere quickly while telling its story from the vantage points of Judith, Fanny and Marco. This might have looked good on paper but here it falls flat as the combination of broad comedy and kitchen sink drama never quite gels. The movie might have had a chance if told solely from Marco's point of view, allowing the details of the lives of his customers to subtly work their way into his story, which is the most compelling of the three. While Nathalie Baye is a wonderful actress and there is a worldwide shortage of movies about older women, Judith's story simply reeks of cliche.
Cliente (Client) (A French Gigolo) Quotes
There are no approved quotes yet for this movie.