Clockers
(1995)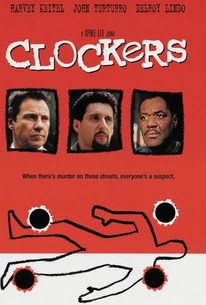 TOMATOMETER
AUDIENCE SCORE
Critic Consensus: A work of mournful maturity that sacrifices little of its director's signature energy, Clockers is an admittedly flawed drama with a powerfully urgent message.
Movie Info
The grim realities of drug dealers' lives provides the basis for this gritty drama. The story centers on Strike, a 19-year old drug dealer who lives in the Brooklyn projects. When Strike agrees to help a local drug lord kill one of rivals, he finds himself in serious trouble.
Critic Reviews for Clockers
Audience Reviews for Clockers
½
Based on a novel by Richard Price, who co-wrote the script with director Spike Lee, this is a grim and gritty look at how a police procedural affects the residents of an inner city neighborhood during the aftermath of a murder and the subsequent investigation. There are many players here, but the film predominately follows Strike (Mekhi Phifer)- a "clocker" or street-level drug dealer who works for businessman/supplier Rodney Little (Delroy Lindo). Though Rodney had illegal business dealings, he is also shown to be a mentor to the local youth, and he does give them guidance and opportunities, even if they aren't necessarily the most positive of things. Strike finds himself in deep when he gets involved in the investigation of the murder of one of Rodney's rivals- a man Strike was told to get rid off. While the film does eventually reveal the truth, the bulk of the story probes whether or not Strike actually committed the murder. Besides pressure from Rodney, fellow clockers, and his own conscience, Strike also has to deal with the main cops on the case, played by Harvey Keitel and John Turturro. This seems like a nice, simple, intimate story, and I would have been thrilled had it just stuck to being that. Instead, this small story is blown up, and used as merely a driving force in a broader story about the trials and tribulations of inner city life, specifically the issue of black on black crime. I'm not as thrilled that this film was expanded into a lengthy epic, but I don't think that's a major issue. By having the film become so drawn out and broad, things tend to lose steam and focus from time to time, and the meandering leads to the grit and intensity losing their edge once in a while. But, when the film is on target, it's really on target, and makes for some compelling, well done, and entertaining cinema. It's a decently well shot film, and the art direction and set design are suitably grimy, gritty, and show the plight of people in the inner city. An issue that really gets to me though is the music. Sometimes it's fine, but at others, it really clashes and sticks out. I'm all for ironic uses of music, but it's not really done all that well here, and seems kinda corny. We do get some good performances though, and the themes and ideas are well established, but then again, I'd expect no less from Lee. The film does have its problems, but I don't think they're egregious enough to keep me from giving it the grade that I am. You have to be in the right frame of mind, but if you can tap into this film's groove, and are wanting a broad tale, then sure, give this a look.
Chris Weber
Super Reviewer
"See, dis is where all da money at, ma lil nigga. how you think i got dat fat-ass train set ova dere?"
Coxxie Mild Sauce
Super Reviewer
It's enjoyable at times, but it was a lot more of a small scope compared to Lee's other movies. When it wants to be political it's too obvious, but the rest of the movie is just a mediocre crime drama. Harvey Keitel, John Turturro and Mekhi Phifer all gave great performances, but then again Isaiah Washington was horrible. Really it's only interesting to people who are Spike Lee completists or fans of the individual stars. Otherwise, there's a lot better handled projects out there.
Conner Rainwater
Super Reviewer
Clockers Quotes
There are no approved quotes yet for this movie.