Clockstoppers
(2002)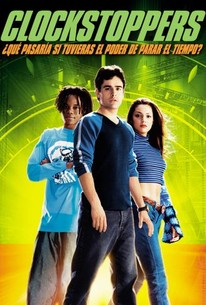 Movie Info
Until now, Zak Gibbs' greatest challenge has been to find a way to buy a car. But when he discovers an odd wristwatch amidst his father's various inventions and slips it on--something very strange happens. The world around him seems to come to a stop, everything and everybody frozen in time. Zak quickly learns how to manipulate the device and he and his quick-witted and beautiful new friend, Francesca, start to have some real fun. But Zak and Francesca soon find out they are not alone in "Hypertime."
Critic Reviews for Clockstoppers
Audience Reviews for Clockstoppers
½
Jonathan Frakes is no stranger to science fiction, so it would seem he would be a fitting director for Clockstoppers.
The story concept revolving around hyper-time is a solid start, but as a whole this film is too kid friendly and routine with its story. The first 3rd of this 90 minute picture plays around and has fun with the sped up time. This is fine to a point, but it does feel like a waste of time.
The effects are adequate enough, especially with the nature of this film; however, the possibility to do more is definitely there. Unfortunately, for a film that does focus on moving fast, the effects aren't the most memorable thing about it.
Jesse Bradford gets by as the lead male teen. Paula Garces is a pleasant surprise, as she is more than just the pretty girl along for the ride. French Stewart's unique personality, which could easily stand out in other films, tends to blend in with this one.
Once the clock stops, Clockstoppers really doesn't offer much other than a one time 90 minute sit through.
½
An initially intriguing idea wasted with mediocre performances and a shoddy script. Full review later.
Thomas Bowler
Super Reviewer
½
It's definitely fun for it's generation, but anyone over ten will find it repulsive.
Matt Goodman
Super Reviewer
Clockstoppers Quotes
| | |
| --- | --- |
| Francesca: | What are you doing in there? Did you break into my house just to pee? |
| | |
| --- | --- |
| Dr. Earl Dopler: | You know what I don't like? Getting kicked in the head. |