Clockwatchers
(1998)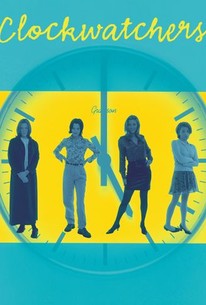 Movie Info
This modern comedy focuses on the daily grind of a group of temporary employees working in a large business office. Iris is the newest temp in a totalitarian-style office and is quickly befriended by the other temps. Things heat up, however, when management realizes that office supplies are being stolen.
Critic Reviews for Clockwatchers
Audience Reviews for Clockwatchers
A not particularly enlightening look at office life. It was of course trumped eventually by the masterful Office Space. The film ultimately raises the question - so what?
John Ballantine
Super Reviewer
Watched this movie a lot as a teenager. I love it's dark humor and the different characters.
Sunil Jawahir
Super Reviewer
½
What starts as a kind of Nine to Five comedy about a group of young women temping at a credit company, evolves into a rather dark, frustrating, realistic and somewhat depressing dramedy.
Iris (Toni Collette) is the newest temp recruit at a credit company where the key is to "look like you're busy". Incredibly shy, somewhat insecure and lonely Iris is soon befriended by three fellow tempers (Parker Posey, Lisa Kudrow and Alanna Ubach) who welcome her into their world of boredom, under-appreciation and aspiring dreams unfulfilled or out of reach. The catalyst for their friendship becoming stronger before ultimately falling apart is the arrival of a new office assistant and a subsequent string of thefts of everything from stationery to personal diaries. As suspicious eyes turn to the temps ("it's them and us"), it isn't long before bitterness and resentment break out, and things are never the same again.
Despite the truly terrible, 80's looking DVD cover which inaccurately suggests a kooky office comedy, this is actually quite a bleak look at friendship and office politics, and is powerful stuff in parts. Toni Collette, as narrator and lead player, is truly excellent and has a way of portraying inner thoughts not spoken that is quite unique. As the film enters its second phase, you can see her think through possibilities and suspicions and, though the transformation of character she promises in voiceover at the start isn't (thankfully) completely fulfilled, her depiciton of Iris remains compelling throughout. Parker Posey provides excellent support, and has a heartbreaking and frustratingly real scene when her friends seemingly abandon her.
A very cheap and plainly looking film (though that's probably half the point), Clockwatchers doesn't have enough of a satisfactory conclusion to make this entirely successful, but still remains a film you shouldn't judge by its tacky cover.
Daniel Parsons
Super Reviewer
Clockwatchers Quotes
There are no approved quotes yet for this movie.